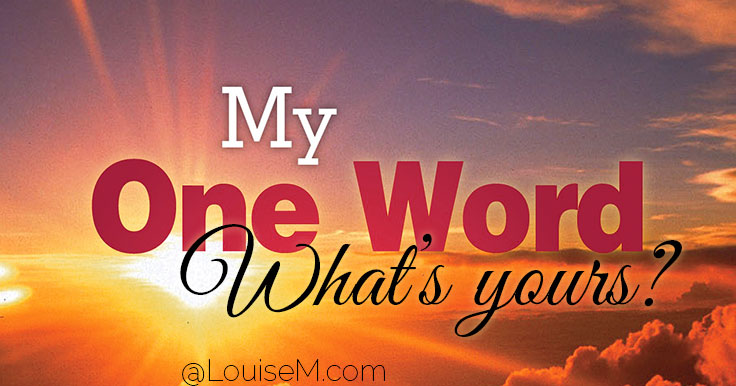 Got a word for the year?
That's right, just one!
Keep it simple – no long resolutions that you can't fulfill. Choose just one word.
Better yet, let a word choose you!
Why one word? Because 50% of resolution makers will fail by the end of January.
One word creates:
clarity
focus
power
passion
life change
I came across this idea in a 4-day devotional in the YouVersion Bible app (links to iOS version). It's called One Word That Will Change Your Life. More info in the video below, and at the website GetOneWord. Or buy the book on Amazon
.
I've chosen words before, but I really like the simplicity of ONE word.
How to Find Your Word – Or Let It Find You
About the word choosing you?
Yeah, it happened.
As I was reading, the word that occurred to me was LOVE. And I thought, HUH?
I was expecting to choose a word like focus, or intention. Something business-like.
But this word kept coming up over the few days. I especially liked finding this, from my Instagram friend and fellow designer Merryn Padget:
What if we sent love to the people we want to attract to our business, instead of fear (or insert negative conditioning here)?

What if we congratulated our competitors in their moments of triumph, rather than being jealous (or insert negative conditioning here).

What if we rallied for causes that resonate with our brand values, to create a better future for our children.

Surely this is more important than creating content to be liked/followed/subscribed to/connected with.
Just so I could see the relationship to my business 😉
I also kept stumbling across numerous scriptures, most convictingly this one from 1 Corinthians 13:2:
If I have the gift of prophecy and can fathom all mysteries and all knowledge, and if I have a faith that can move mountains, but do not have love, I am nothing.
NOTHING. That's pretty powerful!
Then a dear friend of mine wisely noted, when something comes up that you wouldn't think of on your own, it's best to listen!
I don't know exactly what my word means for my life, but I look forward to seeing how it unfolds.
The 3 steps to your life-changing word:
Look within to prepare your heart.
Look up to discover your word.
Look out to live your word.
I recommend the free devotional in the YouVersion Bible app (links to iOS version), or get the book on Amazon
.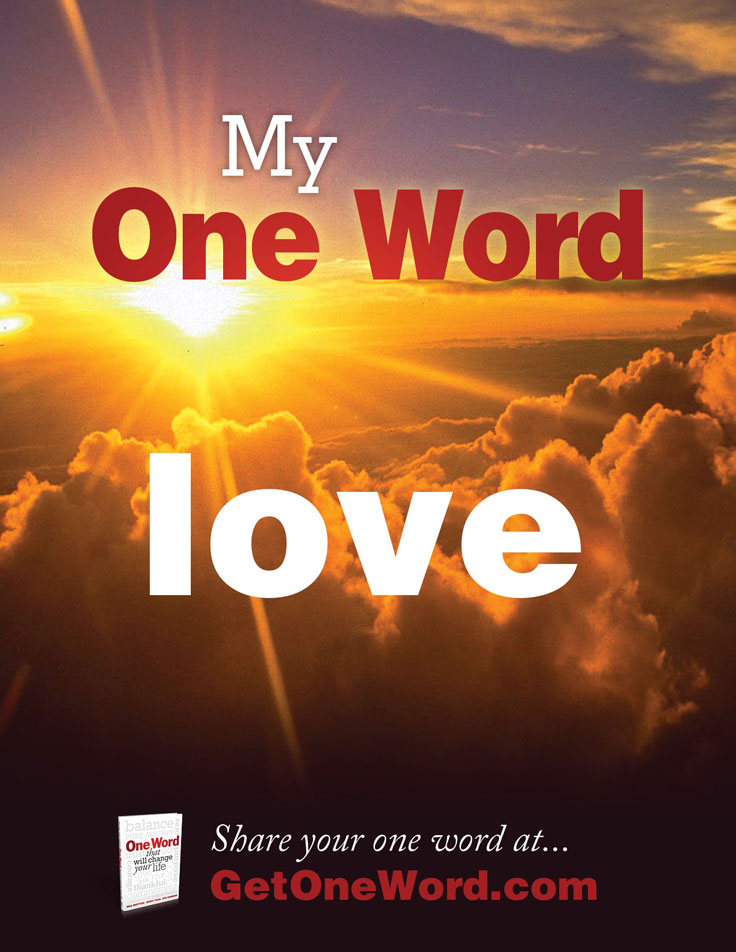 How to Remember Your Word So It Impacts Your Life
To keep the word in the forefront of my mind, I needed a visual reminder.
You can make a very simple poster on the GetOneWord site (see above).
You might choose to create your own graphic in a program you like to use.
I decided to search for something that was free for personal use. Something that really resonated with me, and my style.
I ended up loving the image that I found on RGBstock by artist Dez Pain (see below).
If you just want something to hang on your office wall, you can do a Google image search (NOTE: do NOT post images found this way online, without permission. Learn why here and here. Don't let your words for the year become "cease and desist"!).
What's Your Word for the Year?
What about you? Will you, or have you, picked a word for the year? Tell the world in a comment!