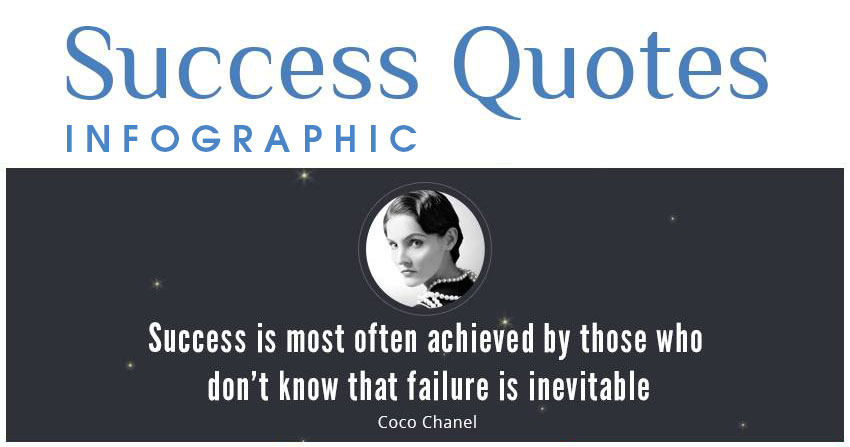 Looking for inspiration?
Check out this success quotes infographic!
I love the clean style and bright colors. And the famous success quotes featured will get – and keep – you on track!
"A quitter never wins and a winner never quits." -Napoleon Hill

"Success is a journey, not a destination." -Ben Sweetland

"Doing the best at this moment puts you in the best place for the next moment." -Oprah Winfrey

"Success is more dangerous than failure, the ripples break over a wider coastline." -Graham Greene

"Those who dare to fail miserably can achieve greatly." -John F. Kennedy

"Whatever the mind can conceive and believe, it can achieve." -Napoleon Hill

"The way of success is the way of continuous pursuit of knowledge." -Napoleon Hill

"Take up one idea. Make that one idea your life–think of it, dream of it, live on that idea. Let the brain, muscles, nerves, every part of your body, be full of that idea, and just leave every other idea alone. This is the way to success." -Swami Vivekananda

"Success is a lousy teacher. It seduces smart people into thinking they can't lose." -Bill Gates

"A journey of a thousand miles begins with a single step." -Lao Tzu
These quotes are not only encouraging, but sow seeds of possibility in our minds.
"As a man thinks in his heart, so he is." -Proverbs 23:7
Is it time to alter your thinking? Pin this puppy for daily inspiration! Compliments of Success Quotes.
And let me know in a comment: which is your favorite success quote?