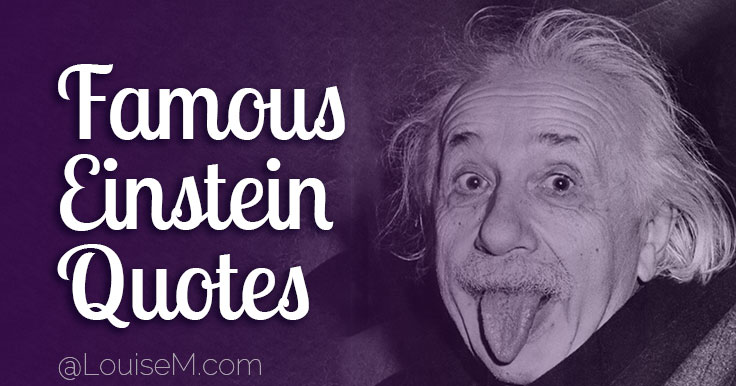 Famous Einstein quotes abound online.
The only problem is – Einstein never said most of them!
Below is a fun infographic of Albert Einstein quotes with the simple, yet profound, life lessons drawn from them. Then read on for more about Einstein's life, and fake Einstein quotes!
In honor of Albert Einstein's birthday March 14 (Pi day!).

Interestingly, I was able to find more definitive information on mis-attributed Einstein quotes than on ones he actually said! To my knowledge, this group of quotes attributed to Einstein have yet to be debunked. The first 6 are on the infographic.
I have no special talent. I am only passionately curious.
Can you imagine Einstein having no special talent? Life Lesson: Follow your curiosity.
Imagination is everything. It is the preview of life's coming attractions. Imagination is more important than knowledge.
Life Lesson: Imagination is powerful. We can all use this free resource to our advantage!
A person who never made a mistake never tried anything new.
Life Lesson: Make mistakes. If you haven't made a mistake lately, you're playing it too safe!
I never think of the future – it comes soon enough.
Life Lesson: Live in the moment. Make every moment count!
Information is not knowledge. The only source of knowledge is experience.
Life Lesson: Knowledge comes from experience. Don't just learn and think about things – try them!
Creativity is knowing how to hide your sources.
Life Lesson: Even brilliant minds stand on the shoulders of those who went before.
We cannot solve our problems with the same thinking we used when we created them.
Look deep into nature, and then you will understand everything better.
Learn from yesterday, live for today, hope for tomorrow. The important thing is to not stop questioning.
Logic will get you from A to B. Imagination will take you everywhere.
Einstein's Life
Albert Einstein lived a somewhat eccentric life. He never learned how to drive a car, preferring to either ride a bicycle or to walk. He was a heavy smoker, a life member of the Montreal Pipe Smokers Club, and is said to have picked up cigarette butts off the street to get tobacco for his pipe. He was married twice, the second time to his own first cousin.
He was  born on March 14, 1879, in Ulm, Germany, and passed away on April 18, 1955, in Princeton, NJ.
Certainly one lesson we should learn from this brilliant man is that you can't judge by appearances. Imagine seeing a disheveled man with wild gray hair picking up cigarette butts! I doubt you'd guess that he'd become one of the most acclaimed minds of modern times.
He was also known for his sense of humor. Perhaps that's why so many satirical quotes are attributed to him.
Completely Fake Einstein Quotes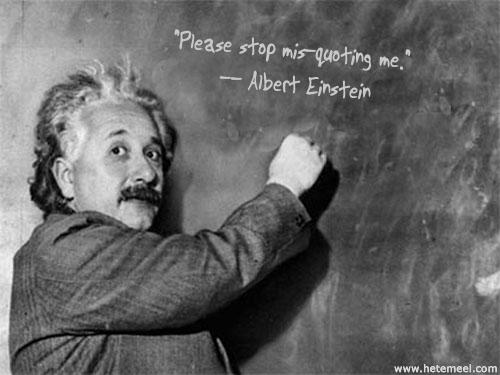 When I was young I found out that the big toe always ends up making a hole in a sock. So I stopped wearing socks.
International law exists only in textbooks on international law.
When you are courting a nice girl an hour seems like a second. When you sit on a red-hot cinder a second seems like an hour. That's relativity.
Evil is the result of what happens when man does not have God's love present in his heart. It's like the cold that comes when there is no heat or the darkness that comes when there is no light.
The devil has put a penalty on all things we enjoy in life. Either we suffer in health or we suffer in soul or we get fat.
Everyone is a genius. But if you judge a fish by its ability to climb a tree, it will live its whole life believing that it is stupid.
Two things are infinite: the universe and human stupidity; and I'm not sure about the universe.
I refuse to believe that God plays dice with the universe.
Common sense is the collection of prejudices acquired by age eighteen.
Any intelligent fool can make things bigger, more complex, and more violent. It takes a touch of genius—and a lot of courage to move in the opposite direction.
In order to form an immaculate member of a flock of sheep one must, above all, be a sheep.
Not everything that can be counted counts, and not everything that counts can be counted.
If we knew what it was we were doing, it would not be called research, would it?
Two things inspire me to awe: the starry heavens and the moral universe within.
Insanity: doing the same thing over and over again and expecting different results.
The hardest thing in the world to understand is the income tax.
Everything is energy and that's all there is to it. Match the frequency of the reality you want and you cannot help but get that reality. It can be no other way. This is not philosophy. This is physics.
Darn. I really liked some of those!
Our thanks to MyMathDone for this brilliant infographic – and also for introducing me to the awesome anagram Albert Einstein = Ten Elite Brains.
How apt!
Like these famous Einstein quotes? Please share!