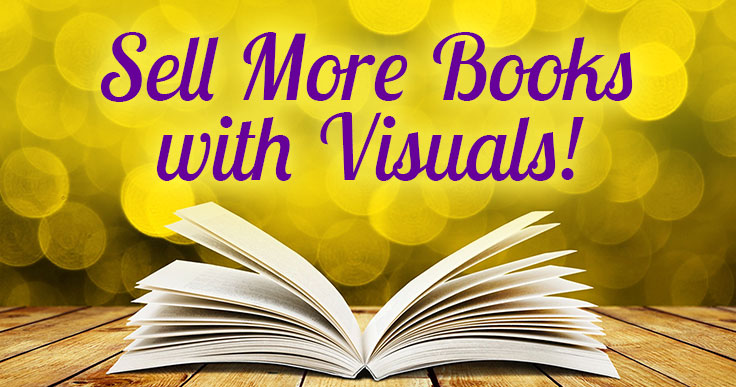 Hey Authors – want to know how to sell more books?
Yeah, I know you do!
The secret is images. 
Humans have an innate ability to process visuals more quickly than text – as much as 60,000 times faster!
What's more, 40% of people will respond better to visual information than plain text.
And on social media, across the board, images garner up to double the engagement of text posts.
But you're a writer, right? How do you create eye-grabbing images?
Use your words!
The combination of compelling words plus a powerful image gets viewers to stop and take notice. Plus, image quotes are among the most reshared social media posts.
4 Easy Steps to Make Viral Images to Sell More Books
Start with what you know – your best words! Pull a dozen or more sound bites from your book. Shorter is better – 8 to 12 words each.
Find ONE simple background that coordinates with your book's branding.
Add the book's name and website URL small at the bottom of the image.
Place one of the quotes atop the background, and save.
Rinse and repeat: Add each quote, then save. You can really crank 'em out!
Then share your graphics on all your social channels.
Where to Get Your Photo Background
If you're a decent photographer, find something in your archives. A simple photo, or one with a large "clean" area, will provide a perfect spot to drop in text.
Or, there are many places to find free images online.
If you also need an app to create your graphics with, the good news is, many include free images right in the app! Read more below.
If you want to pay a little for a more unique photo, check out some of the royalty-free image sites. Photos here will cost a few dollars, but you wan't have to pay a royalty with each use (that's the meaning of royalty-free – not that there's no cost).
How to Create Your Book Marketing Visuals
If you want an easy place to start, check out Stencil. It couldn't get much easier than this!
Choose a photo background.
Drop in your text.
Select a font.
Add your watermark.
Save.
I made the image below in horizontal, vertical, and square formats, in about 5 minutes.
Try Stencil for free here. If you decide to upgrade to a paid account, I'll make a small referral fee.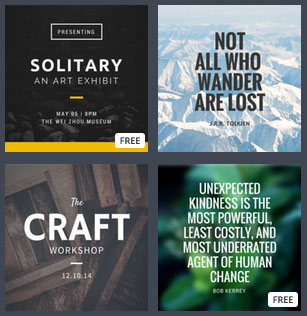 Another popular choice is Canva, but I find it rather complicated. They do have already-designed layouts that you can paste your own text into. See some samples at right.
I find that the templates are often comprised of numerous separate boxes that make them difficult to edit.
You can search for different backgrounds – most cost $1 per use, some are free. (With a paid background, each image you download will cost another dollar).
Read this post for how to use Canva, or download my free report to find the best app for YOU to make images!
For instance, did you know you can make shareable graphics in PowerPoint?
My free report will help you decide which app to get started with!
Plus, you'll get my best social media tips every Friday. Unsubscribe any time if you don't find them essential!
More on Book Marketing
Read more on promoting your book with graphics: a case study of an author who's using graphics to build awareness for her book, and motivate herself to finish it at the same time!
And here's a post on book marketing with tips from 18 experts – myself included 🙂
PIN or share this post if it helped you learn about book marketing with graphics! And share in a comment your best tip on how to sell more books.