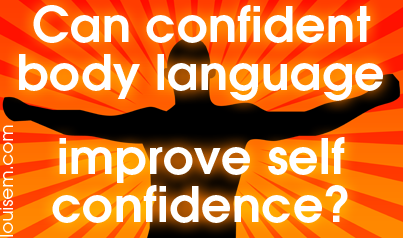 Wish you could improve self confidence?
Is it possible for the body to change the mind?
New research shows you can improve confidence by improving your body language! Confident body language, called powerful poses by Professor Amy Cuddy, can change other people's perceptions — and even your own body chemistry! [pinit]
Use Confident Body Language to Improve Self Confidence
A friend found this video, and I wanted to share this powerful information with you! Watch to see how adopting confident body language for two minutes not only increased participants' perception of power, but also increased testosterone and decreased cortisol. They literally became more powerful!
Professor Cuddy says, don't fake it til you make it – fake it til you become it!
What do you think? Can you improve self confidence in two minutes with body language? Will you try it?