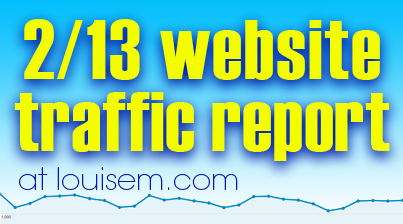 The website traffic report for February isn't as upbeat as January's – but still interesting!
My traffic is trending down slightly, which could be attributed to:
New Year's resolutions to build a Facebook Page have been completed or forgotten.
Changes in my site due to my rebranding have confused or annoyed Google.
I haven't written a home-run tutorial post.
My traffic is still above December. You can get the big picture in this 3 month snapshot from my Google Analytics. The peak is January 2.[pinit]

Website Traffic Report: February 2013's Top Posts
Best Facebook Photo Sizes remains far in the lead for February, with 15,470 pageviews. This is an average of 552.5 views a day, down from 675 per day in January.
The Facebook emoticons list post, which was such a rogue runaway in January, has calmed down. As February's #3 post, it's switched places yet is still almost tied with Free Watermark Software & Sites.
The top February-published posts were Social Media Cheat Sheet and Best Profile Picture for Facebook, at #17 and 18. The only other post from 2013 in the top 20 is January's Top 10 EASY Ways to Make Picture Quotes at #15. The posts that are drawing most of the traffic are Spring and Summer 2012's posts about setting up Facebook Timeline for Pages. I believe I got ranked highly for those since the content was fairly unique and highly valued at the time. Google continues to see those posts as authoritative.
While my traffic has dropped slightly, my Alexa rank has continued to climb, from 77,727 on January 31, to 71,366 on February 28.
Overall, I'm excited about the direction my business is taking, as I devote more time to creating in-depth training for social media graphics. I'm already working on a picture quotes training that can really help you get in on viral sharing for your business.
I hope this info about what's working on my site helps you to set your own blogging strategy! As always, I thank you for your support. Stay tuned for next month's website traffic report!