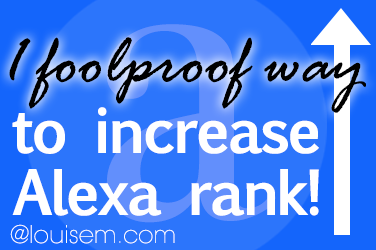 Looking to increase Alexa rank?
In my experience – there's ONE thing that'll boost your Alexa rank.
I did it on one of my blogs, and cut my rank by half virtually overnight. I went from 9,400,361 to 4,732,781 in 2 days.
The top-ranked sites are Google at #1, and Facebook at Alexa rank 2. Low numbers are better.
Here's what I discovered: your Alexa rank isn't totally based on traffic, as Alexa tells you.
The global traffic rank is a measure of how a website is doing relative to all other sites on the web over the past 3 months. source
What worked for me? Fresh content. My Alexa rank at LouiseM.com has steadily risen to around 53,000 – even though my traffic has tapered off since my highest traffic month of January, 2013.

My web traffic from January 1 through May 13, 2013. My Alexa rank rose from 86,505 to under 53,000 as my site traffic dropped.
I had 2 abandoned blogs that I discovered were still pulling in steady traffic, even though I hadn't posted on them in 6 months. Their Alexa rank had suffered, though.
I decided to try to keep them alive by posting once monthly. The first post increased Alexa rank on the yoga site from 2.2M to 1.8M. That site already had 140 posts. But nograiner.com, which only had 17 posts, saw the dramatic rise noted above, with one new post: from 9,400,361 to 4,732,781.
Those new posts didn't increase traffic dramatically – just the Alexa rank.
What does this mean to you? Get blogging if you want to increase Alexa rank! Let me know if you try it.