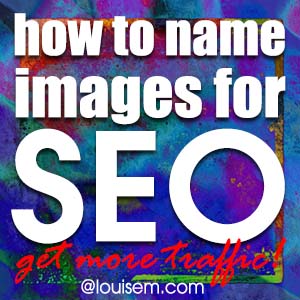 Want to know how to name images for SEO?
Naming images for SEO will improve your search engine rankings and website traffic!
This tip makes it so easy – it literally will take just seconds, since you're already using your best keywords in your headline and URL, right? So copy and paste!
Here's the step-by-step.
[pinit]
How to Name Images for SEO in Seconds [WordPress Websites]
1. Optimize your URL for your keyword or words (maximum one or two keyword phrases!). My keywords for this post are how to name images and images seo. I edited the URL down to how-to-name-images–seo, removing the extra words.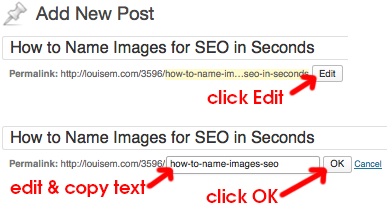 2. Copy your edited URL / keyword phrase, and click OK. Now paste that phrase, including the hyphens, when saving (or renaming) the image you're using with your blog post. If using more than one image, you can save them with -1, -2, etc. added at the end.

3. Next, copy the keyword phrase from your blog post title. Upload your image and paste the keyword phrase as the Alt Text of the image. I add it as the Image Title and Description too. You can add other words after your keyword phrase as appropriate, such as Step 1, Step 2…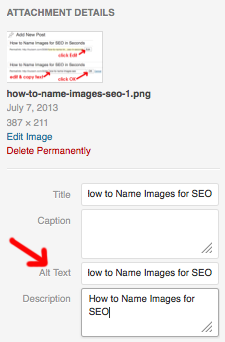 That's it! Now you have a keyword-rich image name and alternate text, which you just copied and pasted in seconds. Here's where you can find more simple SEO basics to improve your web traffic.
Know others who could use this easy tutorial on how to name images for SEO? Please share!