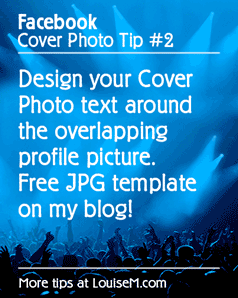 How's your Facebook Timeline Cover Photo?
Do you have a splashy branded image at the top of your Facebook Fan Page that really represents your business?
Below, find some ideas to get you started, and a FREE .jpg template!
Note: This post was originally published on March 3, 2012, and updated on March 11, 2014, with new info, new template, and links to posts with even more Cover Photo ideas. Enjoy!
Facebook Timeline Cover Photo: Size, FREE Template, & Ideas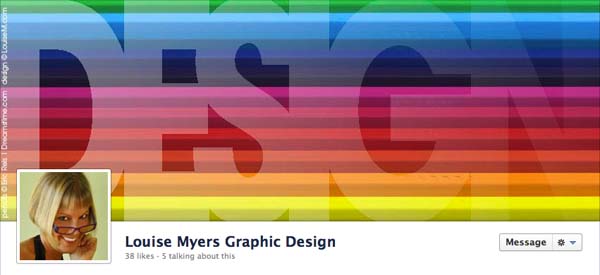 Facebook Timeline Cover Photo Size
The first thing you need to know is that the Facebook Timeline cover photo size is 851 pixels wide by 315 pixels deep.
It's OK to upload a larger image – Facebook will allow you to move it around in the window to get the cropping you desire. But you don't want to upload a smaller image, because it'll get fuzzy and funky looking when Facebook enlarges it to fill the space.
Best of all is to design something to the exact dimensions. You can add type or superimpose smaller images. Keep it simple though – think of it like a billboard. Grab the viewer's attention fast, and make them want to hang out on your page (and Like it!).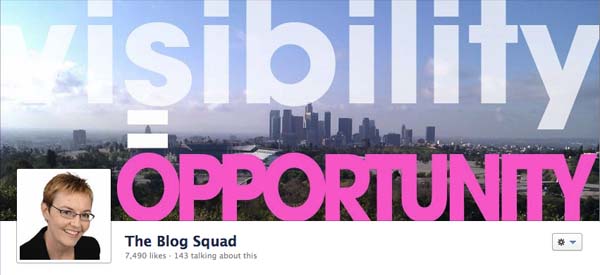 Before we go further, you should be aware of the Facebook cover photo rules. Here's what's current as of March 2014, but they do change from time to time, so check the source:
All covers are public. This means that anyone who visits your Page will be able to see your cover. Covers can't be deceptive, misleading, or infringe on anyone else's copyright. You may not encourage people to upload your cover to their personal timelines. (source, see section III B)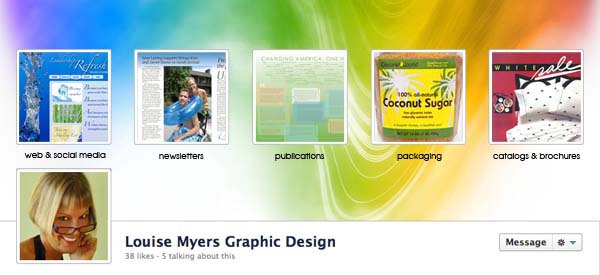 Facebook Timeline FREE Cover Photo Template
I have a super simple .jpg Cover Photo template for you. It'll remind you to set up your image size at 851px x 315px, and be aware of where the profile picture overlaps, so you don't hide something of importance. If you'd like my .jpg template showing the Facebook Profile Picture positioning and ALL measurements, just click here to download.
For instructions on making your Cover Photo in Powerpoint, and a free template, click here. This will open in a new tab, so you can finish the rest of this article afterwards. I'll wait for you here! 🙂

Facebook Timeline Cover Photo Ideas
I hope the Facebook Timeline Cover Photo samples I've created, and shown you here, give you some ideas. My recommendation is to keep it simple and splashy.
For more simple ideas, check out these 9 Easy Facebook Timeline Cover Photo Ideas for Small Business you can create in an hour or less. My readers made these!
Keep improving and testing your Fan Page Timeline Cover with yet more ideas: 13 New Facebook Fan Page Cover Photo Ideas.
Here's a step-by-step tutorial on finding a great photo for $15, then creating your Cover Photo on pixlr.com.
When you're ready to collect leads from Facebook, you'll want to learn how to create a Cover Photo that gets leads. Eight more ideas there!
Show Off Your New Facebook Timeline Cover Photo!
Once you've made your new Cover Photo, return and give us a link to your Facebook Timeline Fan Page!