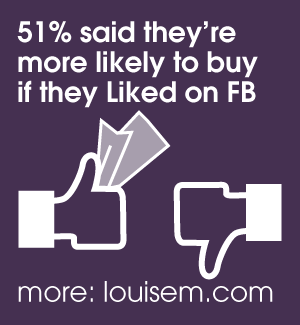 Want to know how to get Facebook Fans? You should – statistics show that 51% of consumers are more likely to buy a product or brand after Liking them on Facebook.* The cool thing about getting Facebook Fans with Facebook Ads is how carefully you can target your ads to your best business prospects. B2B companies – did you know you can even target by job titles or company names? An impressive stat: for online targeted marketing, Facebook reaches its intended audience 90% of the time, vs. an online industry standard of 35%.*
Once you get targeted Facebook Fans, your Fan Page helps you build connections with them, ultimately turning those connections into real sales for your business. You can get Facebook Fans with free methods (begging friends and family, anyone?), but you really accelerate the process with paid ads. Then, once you've built up your fan base, you want to engage your fans with quality content. Those interactions over time will influence your prospects to know, like, and trust your business, and turn them into customers – and repeat buyers.
This post is a synopsis of the 10 Tips to Accelerate Fan Growth with Facebook Ads webinar by Mike Volpe of Hubspot and Chris Luo, Head of Global SMB Marketing for Facebook, originally presented on April 25, 2012.
How to Get Facebook Fans & Business Prospects with Facebook Ads

Here are the 10 tips from Facebook's Chris Luo:
Identify Your Audience
You may have a couple segments, so consider different ads targeting different segments for greater success. You want at least 10 – 25,000 target for your ad reach – less is too tightly targeted.
Understand Your Target Options
Geographical: city, state, zip codes, country
Demographic: age, gender, education, language, workplace, job title – enter in Precise Interests section
Likes & Interests: TV shows, movies, sports, hobbies, music, religion, books, politics – Facebook users have self-identified as being interested in these topics.
Use a hashtag to give a broader segment, or make it specific (i.e. #marketing vs. Hubspot will return all people who liked marketing-related topics vs. just Hubspot).
Use Good Images
Use eye-catching, bold colors, something that stands out – blue may blend in with the Facebook colors. (I'll delve into what makes a good FB ad image in a future post).
Include a Strong Call-to-Action
Your copy is 250 characters or less, so be brief. Try "Like us for…" and give the benefits of Liking your Page – the exclusive offers and/or info you provide.
Set Objective & Budget
Do you want Likes or Clicks? You may see a place to fill in your Objective (about 80% of Admins won't see this feature yet). For Likes, there's no need to bid. Just put in a budget per day. For Clicks, you need to place a CPC bid. (cost per click) Use the guidelines – though you can bid higher.
Create Multiple, Targeted Campaigns / Ads
You should create a minimum of 4 different ads, and segmenting by age is effective. Set up different ads for each demographic to see which ad resonates with your audience. You may find a soft spot with your Cost per Like and then be able to maximize that segment.
Launch & Find Out Which Are Working
Which ads have the highest click-through and lowest cost per Like? Which segments are least responsive? You may decide to eliminate them. As you analyze over time you'll determine which segments to focus on and how to improve your response.
Reporting & Optimization
The Advanced Reports in your Ad Manager are Advertising Performance and Responder Demographics. These will give you deeper insights.
Refresh your Ads
Refresh your ads at least weekly, as people will be seeing the same ads, and your CTR will decline. You might simply swap out an image to see a step up in CTR.
Always On-Strategy
Create new campaigns to grow your business and get more sales.
*Stats via Hubspot. 
Pin my graphic to remind you of the 10 tips to get Facebook Fans with ads!
What did you think of Facebook's 10 tips? Have you tried Facebook ads and found them effective? Please share your thoughts in the comments below.
UPDATE! More great tips for Facebook ad results from Social Media Examiner and Andrea Vahl. Here's a sample tip:
#1: Do Your Research

Watch other Facebook ads and take a look at their techniques.

You won't be able to see a list of all of the ads that are out there right now, but you can watch the ones that are being served to your demographic. You can see all of the current ads that would target your profile by going to Facebook's Adboard.
Read more on this story, just published today! You'll find 5 more Facebook ad tips.