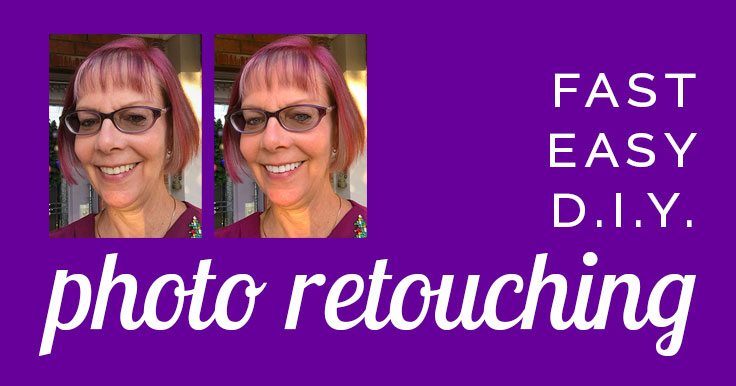 Want to put your best face forward?
Then you should learn how to retouch photos!
If that sounds like a job for a Photoshop pro – don't fret! You can do this yourself, fast and easy, with PicMonkey.
So lets get those profile pictures looking fine – in no time!
I'm a PicMonkey affiliate, so I may get a commission if you purchase. This doesn't cost you a thing, and helps me bring you valuable free tutorials and reviews. Read more in my Disclosures.
How to Retouch Your Complexion
In this video, you'll learn some basic photo retouching for portraits:
How to smooth blemishes
How to reduce shiny skin and flash glare
How to remove wrinkles
How to brighten eyes
Are you ready for your closeup? Let's do it!
How to Retouch Eye Makeup and Color
Bad makeup day? Or just looking a bit washed out?
Add some oomph with PicMonkey's TouchUp tools. Learn:
How to add and blend eye shadow
How to apply eyebrow pencil
How to add mascara for lovely lashes
How to draw on eyeliner
How to brighten eyes with Eye Brighten
How to change your eye color
How to add eyelashes when yours are barely there!
These portrait retouching tips are way cool, so don't skip this one 🙂
Amazing Editing with Next-Level Retouch Tools
What's that – you need a total makeover?
Look at all the face retouching you can do with PicMonkey! In this video you'll learn:
How to apply a natural-looking spray tan
How to boost your blush
How to retouch your hair color with Highlights
How to whiten your teeth
How to fill in facial hair with Whisker Grow
How to reduce shiny skin
How to use the Clone tool
Ready to reach the next level? Dive in!
How to Retouch Portrait Photos on Mobile
Did you know? The same wrinkle annihilating, smile brightening power you get on PicMonkey.com is available to Premium users on mobile!
This was allll I did to fix my face in the sample I've shown at the top and end of this post.
It's amazingly fast with the Presto button, and you can get as precise as you like with:
Smooth
Blemish Fix
Whiten and Brighten
Nip/Tuck Nudge, Reduce, and Fill
Push-button plastic surgery! Check it out below.
Profile Picture Size Advice
Retouch your full-size image first! If you're going to the trouble of retouching, I strongly recommend you start with the highest resolution image you have.
Save this photo to your device at top-quality.
You just might want that high-resolution retouched portrait for another use later! If you decide to print out some 8x10s, you'll appreciate the quality you can get with the best resolution.
I you wish to crop or resize it before uploading to your social networks, save the cropped/resized version as another file.
A 500 pixel square-cropped image should work well on all social platforms. You don't have to upload an exact image size.
Be aware that most platforms will show your image cropped to a circle, at least in some places. So don't crop too tightly before uploading. You'll lose the corners of your image.
Sample from Twitter. Note: for reference only. You don't need to crop your image to a circle.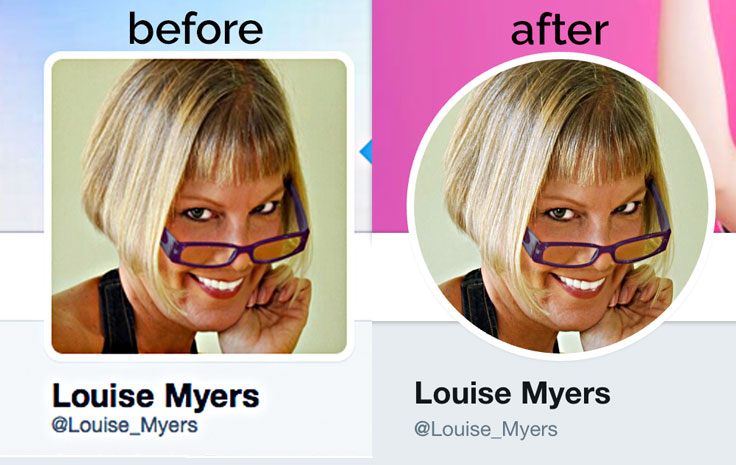 Portrait Retouching Conclusion
Don't let a good face go to waste! (Yours, that is).
You have so many options to do a face retouch in PicMonkey.
Whether you need a little brightening or a full makeover, the Monkey will make sure your profile picture is ready for prime time.
It's easy and fun!
You don't have to spend weeks learning Photoshop – and then struggle to figure out how to make it do what you want.
PicMonkey knows what you need – and has built in pre-sets you can access with a click.
Ready to retouch? Try PicMonkey FREE for a week!
• • • Click here to try PicMonkey for FREE • • •
Proud to be a PicMonkey affiliate.
I hope this tutorial gave you loads of ideas on how to retouch photos!
Now go fix that face 😉