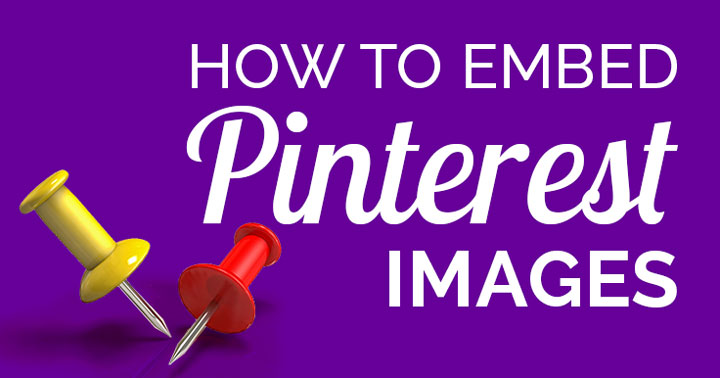 Want to embed Pinterest Pins?
Or maybe you're sick and tired of embedding Pins that later disappear?
You've got questions, I've got answers.
Let's solve copyright infringement, embedding Pins, and the disappearing act – in one fell swoop.
Table of Contents
Why Embed Pinterest Pins?: just below
How to Embed Pinterest Pins on your Website: Click to jump
How to Prevent Embedded Pins from Disappearing: Click to jump
Why Should You Embed Pinterest Pins?
1. Use Other Pinners' Images
I've discussed at length why you should never use other people's images on your website, unless you have permission.
Using images you don't have rights to use is copyright infringement.
Please be aware that:
Anything found online should be presumed copyrighted. It doesn't need to be marked ©.
Crediting and linking to the site where you found the image does not absolve you of copyright infringement.
But, embedding Pins is a way to use others' images on your blog legally! Embedded Pins will retain the link to the owner's website (don't ever change their link).
2. Get More Repins
Embedding your own Pins on your blog is a great way to increase saves of your Pins. This builds more links to your site, so more people find your site!
I detail below how I embedded my most popular Pin in my sidebar and got over 2,000 repins in a month.
3. Avoid Content Scraping (image theft)
At least one known "image scraper" that steals Pin images to redirect to their own website "scrapes" them from websites (not Pinterest).
An embedded image doesn't show up as a pinnable image on the web page but must be repinned from the link to Pinterest. Theoretically, embedding the Pin rather than showing the original image on your site would defeat this major source of stolen Pins.
What You Must Do Before You Embed Others' Pinterest Pins
Unfortunately, you're not off the hook if the Pin you embed has infringed copyright.
Before you embed someone's Pin, I recommend you click through to the website.
Check that the Pin actually appears and belongs there.
Confirm it's a site you're happy to link to.
Make sure they have a Pinterest Save button.
If not, ask if it's OK for you to Pin and embed it.
Repin to your own board to get some exposure for your Pinterest account.
Embed the Pin from your own board.
Here is an example of a blog post with embedded Pinterest pictures. I followed the steps above and the how-to's below.
Note that these embedded pins link to someone else's site and not my blog post! They also won't appear if someone clicks their browser's Save button.
So, it's better to create and embed your own images. The first embedded Pin currently has 1.9K repins! It would be nice to have those Pins pointing at my website. But still good for my Pinterest account to have so many repins ?
How to Embed Pinterest Pins on Your Website
Step 1: Find a Pin you want to embed!
If it's your own image, you'll need to save it to Pinterest. Be sure you write a great description.
If it's someone else's image, I recommend saving it first to one of your own boards. Be sure to keep the URL link on the Pin intact.
As long as the creator is okay with having their content shared on Pinterest, embedding their Pin is legit. It's in the Pinterest Terms of Service that users must agree to.
If the content creator isn't a Pinterest user, then you might want to see if they have a content policy, or reach out personally to ask.
Step 2: Grab the code.
It's easy to do. Just find your Pin on Pinterest and click the 3 dots at top right. Select "Embed."

This will take you to the Pinterest Widget Builder. Here you can choose:
Small, medium, or large Pin image.
Show or hide the Pin description.
I like to hide the description for a cleaner look.
I find the small image looks great to the side in a blog post. Medium fits perfectly in my sidebar!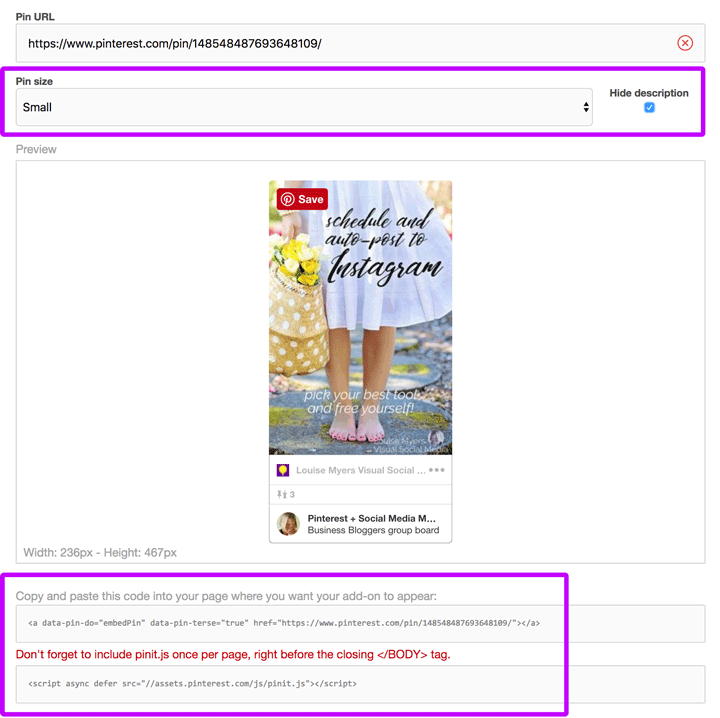 Step 3: Paste the code.
Open the "text edit," source, or HTML pane of the page or post you wish to add the Pin to.
On WordPress, it looks like this:

Copy and paste the first code into your text / HTML where you want your widget to appear.
Paste the script into the page's "body scripts" section. It's also possible to add this site-wide so you don't have to place it on every page where you wish to embed a Pin or board. Use Google or ask a techy friend if you need help with this.
Step 4: Enjoy the repins and traffic!
Got a Pin you want to go viral? Embed this Pin in your blog sidebar.
I tried this with my "Social Media Sizes Cheat Sheet." In 3 months, that specific Pin has gotten over 4,000 repins. Over 2K in the first month!
When your content gets a lot of repins, Pinterest sees you as a quality resource, and boosts the appearance of all your content in its Smart Feed. Double win!
So pick your most valuable Pin and give it a try.
Why did my embedded Pin disappear?
WARNING: Once you embed a Pinterest widget, you can't ever open the edit page on the "visual" side. The embed code will disappear. You need to only open it in the text, source, or HTML editor.
If you can't trust yourself to remember, if you're on WordPress:
Go to Edit my profile.
Set to disable visual editor.

Option 2: the reason the Pin disappears is that it's a link code with no content. Try this:
Insert a character like | between the pin embed code and the closing tag </a>.
I just tried it on this post and it did save the code, plus I can't see the character in the blog post.
It worked for a Pinterest friend, who said:
This is genius!!! I just put a dash before the closing tag and it saved it without any issue! Thank you thank you thank you! I can only image reopening that post for a number of reasons and it deleting all that code… I would have been so SAD!
So it might work for you too!
Another way embedded Pins disappear is when the original Pinner deletes their Pin. So, save it to your own board and embed that Pin.
How to Embed a Pinterest Board
This trick works just as well for Pinterest boards!
If your audience is into Pinterest, blog about others in your niche that they might want to follow. It's easy when you embed these influencers' Pinterest boards or profiles.
It's also a great way to connect with influencers! Here's an example post.
And don't forget to include your own self too 🙂
Once again, you just click the 3 dots – but atop the board itself this time. Choose "Create widget."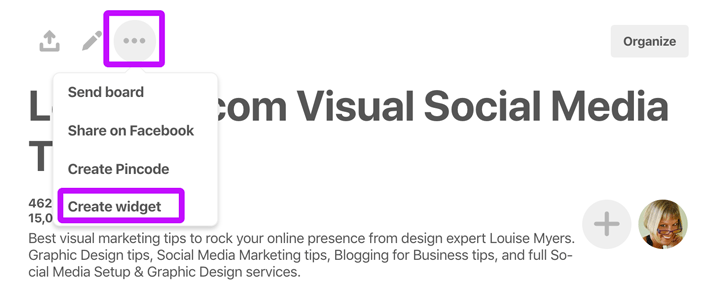 You have a choice of several shapes and sizes, or you can set your own specifications. I used "header" on the visual pros post.
Again, you'll just copy the code and paste it into your HTML. Don't forget the script too.
OR, you can embed a Pinner's profile instead of a specific board. This shows their recent Pin saves. All you need is the URL of their profile.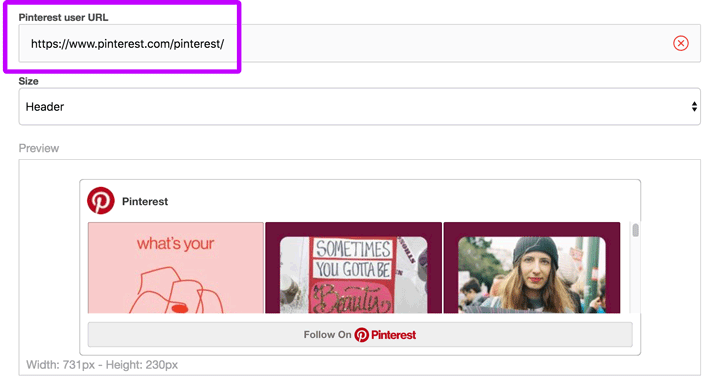 Will You Embed Pinterest Pins, Boards, or Profiles?
Have you tried it before? Share your tips in a comment!
Learn something new? Let me know how you'll use it!
I hope I've cleared things up around embedding Pinterest Pins. Let me know if you still have a question.