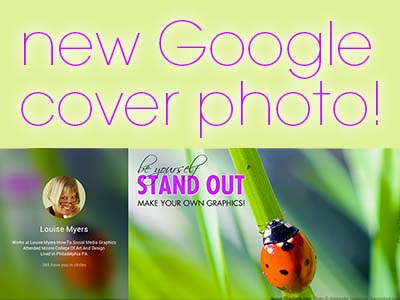 Tired of the massive Google Plus Cover Photo size?
You're in luck – it's been reduced to a more reasonable size.
The new Google Plus cover photo size applies to both personal and business pages. Here's what's new, and how to put it to best use for you!
[pinit]
What's New with the Google Plus Cover Photo Size?
The cover photo now spans the top right 2/3 of the page.
The left third displays page/user information, a button to quickly circle the page/user, and an option to share the page/profile.
The background on this portion is the center section of your cover photo, blurred and frosted.
No more dark gradient and overlapping profile photo at the bottom – your cover image will be seen in full.
The maximum for the new Google Plus cover photo size is 2120px wide by 1192px high, the same as the one introduced in March 2013.
The cover photo size now suggested by Google is: 1080px wide x 608px high.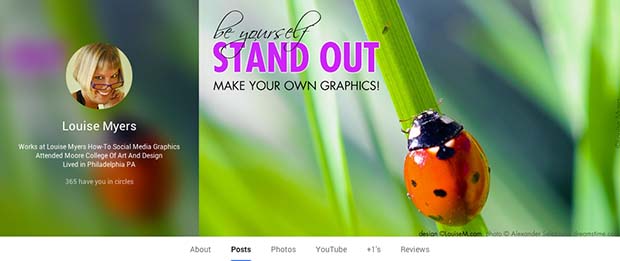 So, Why Should I Change My Google+ Cover Photo?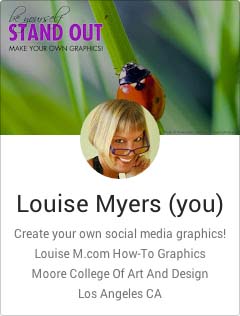 While your previous cover photo will scale down to fit, you may want to simplify it. The entire cover photo now appears on your hovercard – so if you currently have a lot of type, it will be busy and unreadable. Simplify!
Why is this important? Your Google Plus hovercard is seen in more than 20 places across Google+ and other Google properties! It's your virtual business card, so you want it to represent you well.
You might also want to pay attention to the relationship of your profile pic to the cover photo on your hovercard, and make adjustments. I plan to! I don't need a bug on my head 😉
Here's a fabulous post from Stephan Hovnanian on the importance of your G+ hovercard.
Try these suggestions from Stephan on optimizing your hovercard:
Google+ Cover Photo: It's your brand identity. Include a call to action to add you to specific circles in your areas of expertise.
Tagline: Explain who you are, and what I should expect from your posts, in 45-55 characters.
Employment: Your latest place of employment is listed. It could be a URL to your landing page!
Education: If you have a school marked "Current" in your profile, it will show up here. What's to say your business can't be an institution of higher learning, and snag you another mention of it on your hovercard?
Location: Where you work. An actual location is better than "The Interwebs" or "Somewhere over the rainbow." Why? Because including geography in your profile will help you get found when users are searching for people in their area. You can also use a region or metro area if you live in a small town, as it may get your name in front of more searchers.
How to Change your Google Plus Cover Photo
To set or change your cover photo:
Sign in to Google+.
Place your cursor in the top left corner for the main menu, and click Profile.
Hover your cursor over your cover photo and click Change cover.
Upload a new photo, choose one from your albums, or select one from the gallery.
Recommended size: 1080 x 608.
Minimum size: 480 x 270.
Crop your photo, if necessary.
Click Select cover photo when you're done.
Will You Update your Google Plus Cover Photo?
Please share the news with your followers! Leave a comment with your thoughts or questions about the new Google Plus cover photo size.