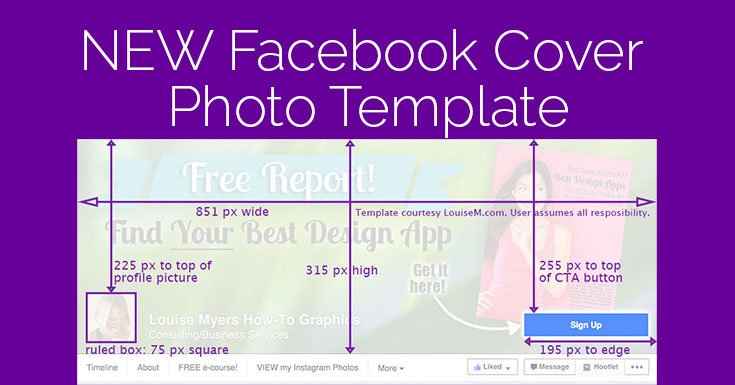 Need the NEW Facebook Cover Photo 2015 template?
You might – or might not. Depends on how fancy you get with your cover photo design!
If you have arrows pointing to buttons – the buttons have moved.
If your profile picture integrates with your cover photo – you're facing a big change, as the profile pic has reduced from a 170 pixel square to a 75px square (frame measurement).
UPDATE: The small profile pic appears to have been a short-lived experiment. Currently the CTA button isn't blue on desktop. And many other of the changes noted here seem to have vanished.
If you like adding arrows in your cover photo, or otherwise interacting with buttons, it's important to remember that their position is completely different on mobile. It even varies on desktop depending on browser extensions the viewer may have installed (note my Hootlet button in the example above).
My current recommendation (January 2016):
These Fall 2015 changes seem to have quickly disappeared:
Profile picture is smaller and fully enclosed in the cover photo.
Page name and category are smaller and less bold.
More horizontal space for your Page name means it's less likely to take up 2 lines of text.
The Call to Action (CTA) button is bright blue and much bigger.
The Page tabs / apps under the cover photo are further to the left instead of to the right of the profile pic that dipped under the cover photo.
The Like, Share and Message buttons have moved below the cover photo.
If you use HootSuite, your Hootlet button also moved below the cover photo.
In my case, because my tabs have long names, and I use Hootlet, my "More" button is now partly obliterated. It will only appear this way to people who use Hootlet. I'll shorten a tab name to avoid this.
There's also a handy new feature, View as Page Visitor, so you can see what non-admins see when they look at your page. Click the 3 dots at far right to access it. The biggest difference you'll notice is the size and color of that call-to-action button!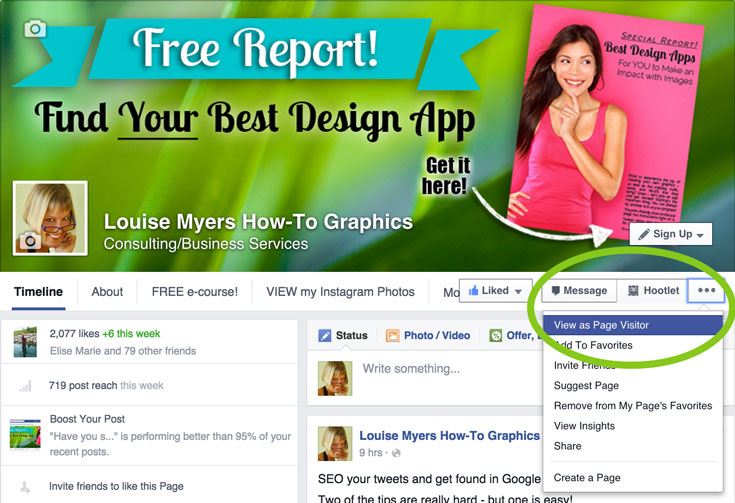 I created a new template for you in case you want to point to your CTA button, or add a glow behind it as I did. Facebook's preview of the button actually changed from one day to the next, so I can't guarantee it'll be in the exact spot when you download the template. If you want to make a border or glow for the button, be sure to save a layered file, or keep your work open while you upload and test your creation.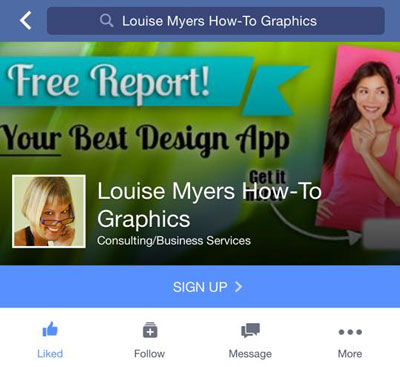 WARNING: I've been receiving wildly differing screen captures of button placements from people in different countries. And even beyond the issue of Facebook settling down with one button size and position that everyone sees the same way on desktop, there's still the issue of mobile. Your cover image will be cropped on the sides, and the button won't be where it is on desktop (see image at right).
So don't get too fancy with those arrows, and forget about adding something that aligns with the button (as I did). I proclaim it a bad idea! 😉
I'll be changing mine soon. Check my page to see what I'm up to here: How-To Graphics Facebook Page.
Download your Facebook Cover Photo 2015 template here. It's free! Then please share this post to benefit others! Thanks.