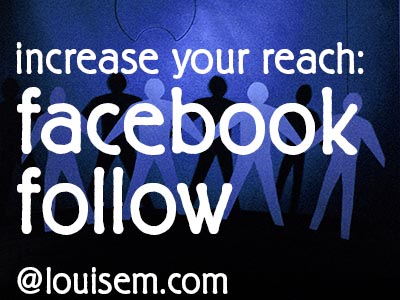 Know about Facebook Follow?
This little trick really helps your reach and visibility on Facebook!
Why is that? Well, if you have a Facebook Fan Page, you may be struggling to get engagement due to Facebook EdgeRank, which makes it tough to get your posts in front of many fans.
When you enable Facebook Follow on your personal profile, you can at least double your chances of getting your posts in users' news feeds! Followers can see all of your public posts – you can still reserve private stuff for friends only. In fact, you can control exactly who sees what with each post.
If you'd like to get more visibility on Facebook, yet still maintain some privacy on your personal profile, the Facebook Follow feature is for you! Users feel closer to you, and get to know, like, and trust you. And, you're not limited to 5,000, as you are with Facebook friends.
NOTE: Facebook Follow was formerly called Subscribe. If you've enabled Subscribe, you're good to go!
How to Enable the Facebook Follow Feature
On your personal profile, click the down arrowhead at the far right of your cover photo and go to Timeline Settings.

Now click Followers in the left column. Check the box next to Turn On Follow. You can also edit whether to allow Followers to comment, or to be notified when people follow you or interact with your public posts.

And, at the very bottom, click to see what your Timeline looks like to the public. NOTE: Everyone can see your public profile, whether you enable Follow or not. Your cover photo and profile picture can't be made unavailable, but if you don't like other things that are showing up on your public Timeline, now is a good time to review your privacy settings.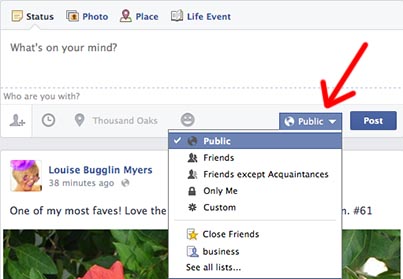 Click on Privacy in the left column and set the default for future posts. I have my default set to Public, but you can always set individual posts just as you want them, as shown at right. You can share with just one friend, friend lists you've created or a custom group just for this post, all friends, friends of friends, or the entire public.
Follow me here to see what I share – it may give you some ideas for how to use this feature!
And click here to see how to add the Facebook Follow button to your website, and get ideas to add followers.
What about you? Will you use this to increase your influence on Facebook? Let me know what you think of Facebook Follow!