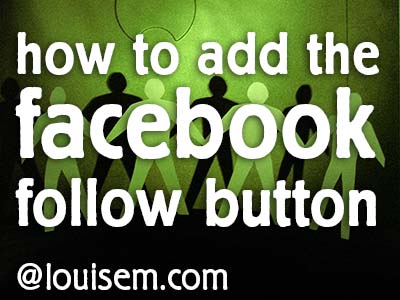 Want to get more Facebook Followers?
I hope you enabled the Facebook Follow feature I suggested! 'Cause now we're gonna look at how to put that to good use by getting more followers.
We'll add the Facebook Follow button.
[pinit]
How to Add the Facebook Follow Button to Get More Followers

Once you've chosen to allow followers, you automatically get a Follow button on the lower right corner of your Profile's Cover Photo – right next to Add Friend.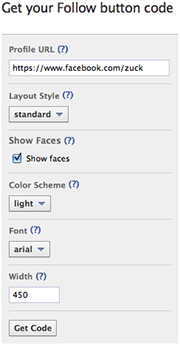 BUT you can also get code to add a Facebook Follow button on any web page! Add it to any of your relevant blog posts – or each of them, if you want! I always add it on my personal blog. You can see that I mention what I post on my personal profile, so people can decide if they'd like to follow me. Consider doing the same!
Facebook gives you several choices of how to set up your follow button. Try them out before deciding which you want – you'll automatically see a preview. Note that once you put your own profile URL in the box, you won't see the faces any more. Nor will you see them when you're looking at the web page you add the code to – assuming you're signed in to Facebook as yourself.
Here's where to get your Facebook Follow button code.
I chose Standard layout with "Show faces" enabled. Here's how it looks:
I used HTML5 and ignored the top section, just pasting in the code in section 2: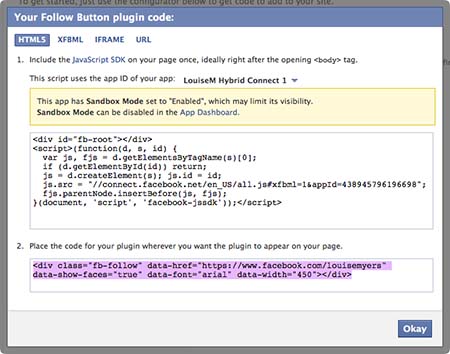 Other Ways to Get More Facebook Followers
You can also simply add a link to your personal profile anywhere – in an email signature, for instance.
Note: When someone sends you a friend request, they're instantly following you! Just leave the request alone and they'll continue to get your public updates in their news feed.
All your friends are already followers, and if you unfriend someone, they'll continue to get your public updates. I didn't know someone had unfriended me for months, until I went to send them a Facebook message!
Remember, your personal profile isn't intended for business use, but you can certainly mix in some updates about your business. And whenever you click "Like" on your blog posts, it automatically posts to your personal profile, for a bit of a blog boost. These can get a surprising amount of engagement so, the more followers, the better!
So what do you think? Did you add the Facebook Follow button yet? Hop to it!