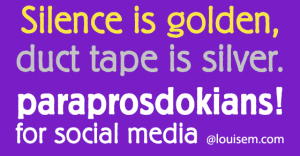 Paraprosdokians?
For social media quotes?
You heard me right!
Paraprosdokians are clever, surprising sayings, where the ending presents an unexpected twist. They can be witty and wonderful quotes to share on Facebook and Twitter. You can even use them to make picture quotes for Pinterest and more!
Check out this extensive list and pick out a few favorites to copy and share. Since it's a Listly, you can vote right on the list, add your own, or embed it on your own blog. 
Join the fun! Share some paraprosdokians as social media quotes!