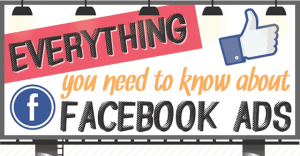 Are you running Facebook Ads?
They're almost a necessity now, with the recent decline in Facebook Page reach.
I'm often asked for Facebook Ad info. While I don't have experience, the good folks at Wishpond sure do – and they've compiled their expertise on this handy infographic!
Some of the helpful facts and stats include:
Studies show the best image for a Facebook ad is of a happy, smiling woman.
A border around your image can result in a 100% increase in click-through rate.
Gmail once tested 50 shades of blue to find the highest converting one. Wow!
Facebook has 874M monthly active mobile users, and they log in 13.8x/day, on average.
If you have Facebook Ad tips, please share in the comments! And be sure to pin the Facebook Ads infographic for reference.