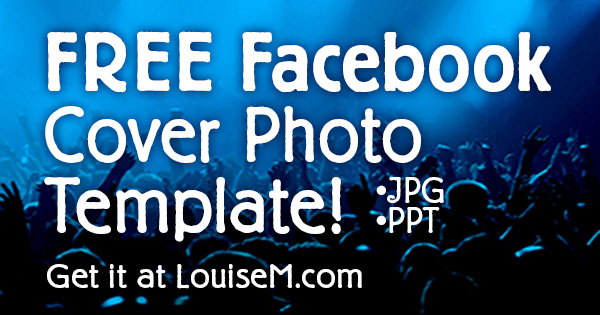 Your Facebook Fan Page Cover Photo changed in Spring 2014.
Facebook redesigned Fan Pages like the personal profiles that rolled out last year.
Gone is the 2-column timeline – now the page posts all appear on the right-side column, same as your personal profile. See the image below: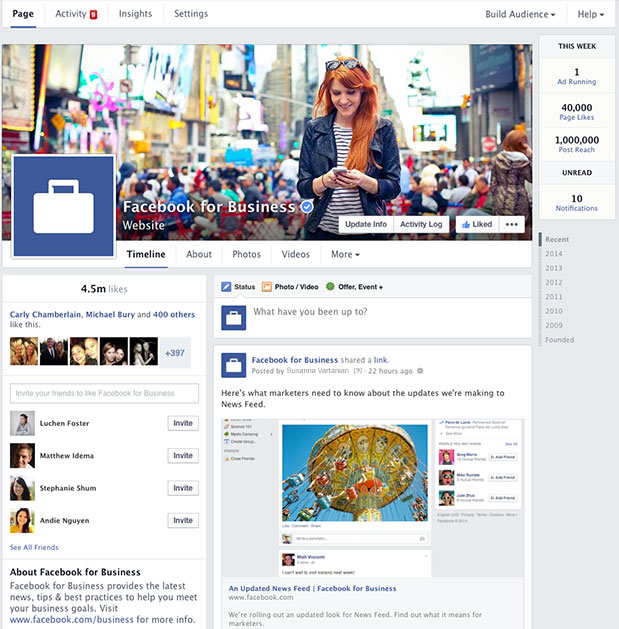 Gone are the Page name and buttons under the Cover Photo, which provides a much cleaner look – but also affects how you design your Cover Photo! The Page name and category, as well as the Like button, are overlaid on the lower portion of your Cover Photo. The Profile Picture overlaps higher on the Cover Photo as well. See below for a free template!
After Page Admins protested the app buttons' disappearance, they were  replaced to the left column. To learn about apps, see this post all about Facebook apps.
The app tabs can also be accessed via a dropdown menu under More (see image below). But the best way to get Fans to your app tabs will continue to be by Page posts that link to them. Fans rarely visit your Page to click your app buttons.
Some Fan Pages got the new look in early March. All Pages were rolled over to the new look by June 2014. If you had text or other important elements sitting above the Profile Pic or at the bottom of the Cover Photo, it may no longer work. Same story if you had an arrow pointing to the Like button, or an app.
Check out my mockup of how the new Facebook Page design affected a Cover Photo with type and an arrow on it: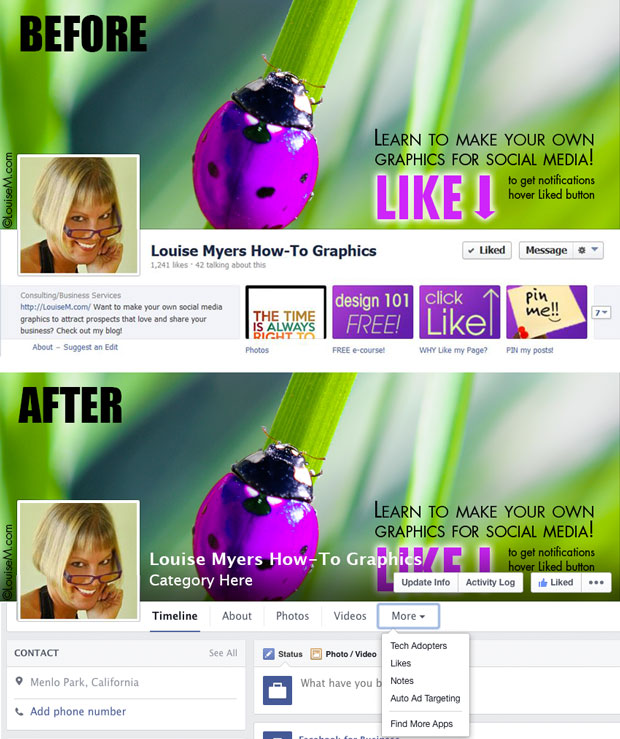 I've redone my free templates to show the new Profile Pic and button positioning.
Download the free JPG template here.
Download the free PPTX template here.
NOTE: Do NOT add your Page name, Category, or buttons where shown in the templates. That's for your reference only. Facebook adds those automatically.
This post was originally published March 12, 2014, and updated September 30.
Please share with anyone who has a Facebook Fan Page, especially if they may need to rework their Cover Photo. They'll thank you!