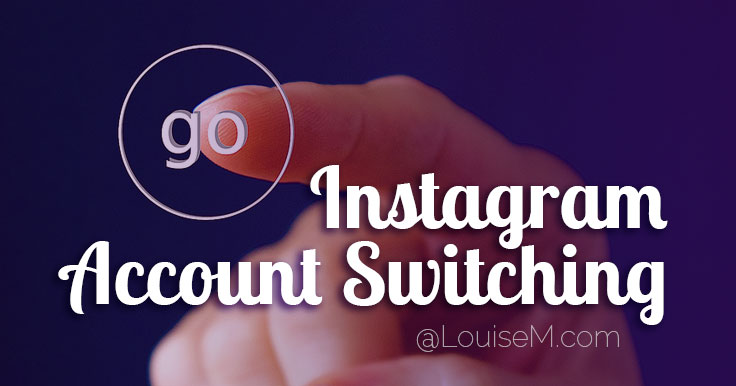 Got multiple Instagram accounts?
One for business, one for fun?
Another one for another business? 😉
This is a highly recommended, yet frustrating, tactic.
Recommended, because Instagram users love to follow laser-focused accounts.
Frustrating, because you've had to sign in and out of one account to access another.
Instagram finally announced account switching February 8, 2016.
I got it that same day, after checking obsessively for days. It had already been rolling out for a week.!
Note: This post was originally published on Feb 8, 2016, and updated with troubleshooting tips on Dec 2, 2017.
How to Add Instagram Account Switching
Account switching became available as part of Instagram version 7.15 for iOS and Android. Make sure your app is updated. If it IS and you still don't have account switching, one user reported that deleting and reinstalling the app solved this issue.
You can add multiple Instagram accounts to switch between them without having to log out and log back in.

To add multiple Instagram accounts:

Go to your profile and tap the gear or settings icon in the top right.
Scroll down and tap Add Account. It's near the bottom.
Enter the username and password of the account you'd like to add.

To switch between accounts you've added:

Go to your profile.
Tap your profile picture at the bottom of the screen.
Tap the account you'd like to switch to.

Note that you can add up to 5 accounts. source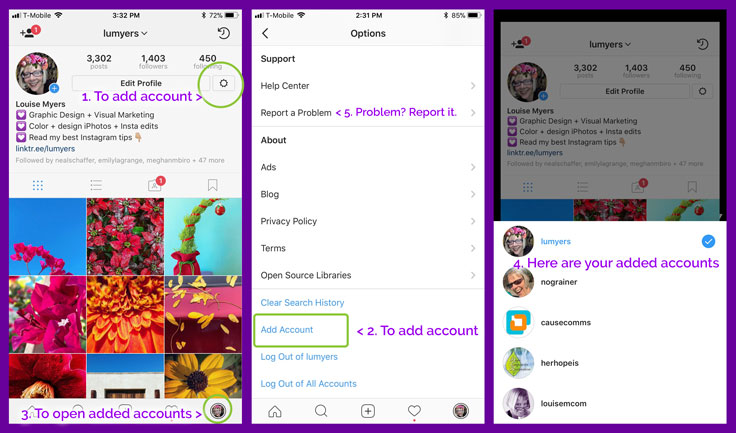 From now on, just tap your Instagram profile picture at the bottom of your profile to switch between accounts.
Once you have multiple accounts added, you'll see your profile photo appear in places throughout the app so you can always tell which one you're using at the moment. I noticed that my account name appears in the comment field so I'm sure which account I'm using. Nice!

Here's a short video demonstration from Donna Gilliland:
Instagram is rolling out multiple account switching to some iOS users. I was thrilled to have the option this morning. I created a quick video on how to setup multiple account switching on your iPhone. Hopefully you have this feature now.

Posted by Donna Gilliland on Thursday, February 4, 2016
What about push notifications on multiple Instagram accounts?
If you've added multiple Instagram accounts, you may get push notifications from any account that has them turned on. This depends on when you last logged in and the number of devices that are logged in to an account.
How do I remove an Instagram account I've added?
To remove an Instagram account you've added, you can log out of the account:
Go to your profile and switch to the account you'd like to remove.
Tap the gear or settings icon in the top right.
Scroll down and tap Log out of [username] or Log out of All Accounts. Logging out of all accounts will remove all the accounts you've added.

My removed Instagram account is still showing!
If you're still having problems, a reader offered these tips:
Go log out of both accounts.
Then go back to the home page where you log in. It'll show the extra account still.
The name will appear on the left and on the right will say log in for both.
Hold down on the page and next to the log in tab an X will appear. Hit the X.
It will prompt you that you will need all the info to log in again and ask if you're certain.
Hit accept.
If this isn't working for you, use the Report a Problem feature in your account settings.
Unfortunately I can't provide additional assistance, because I haven't experienced this problem myself. Would love to get your insights if you've been able to solve it!
Wrapping Up
This is a long-awaited feature, and I'm so excited to have it!
Have you tried Instagram account switching yet?
Has it made your life easier for managing multiple Instagram accounts?