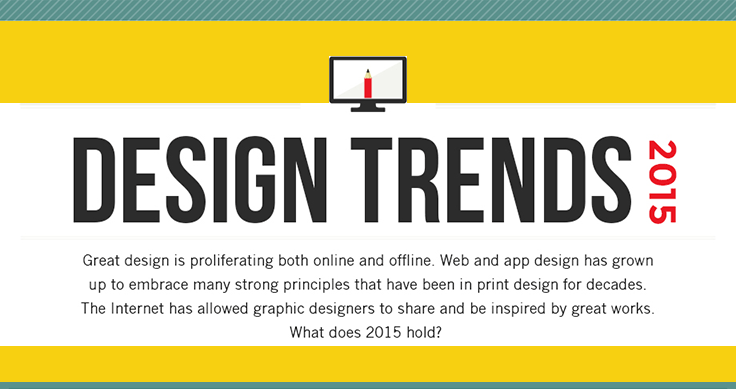 Interested in the design trends of 2015?
While they're all around us, it often helps to have them rounded up and spelled out.
This infographic from Coastal Repro does not only that, but shows them to you as well! Plus, it provides links to see some of them in action.
How Do Design Trends Affect Me?
Maybe you're wondering why you should care about design trends 2015. Perhaps your business isn't "hip" and you don't see a need to be on the cutting edge.
For the most part, this is true. Yet, some trends are ignored at your peril.
The top trend of BIG, beautiful images is quite pervasive. If your website and social media posts are using puny, old-school pictures, you risk looking really out of date.
With faster broadband speeds, little graphics have become passé.
And with the explosion in visual content, there's a greater need to stand out with large AND unique images.
Not to mention, larger images are now required to get a decent Facebook link preview, as well as for Facebook ads.
Quality typography is important too, as web users become more visually savvy. If type design intimidates you, try Canva! Check out my mini Canva tutorial for pointers.
While not all the trends will apply to you, do take note of the popularity of hand-drawn images. Would they be a good fit for your niche?
Have a look at the infographic, and please share with anyone interested in Design Trends 2015!