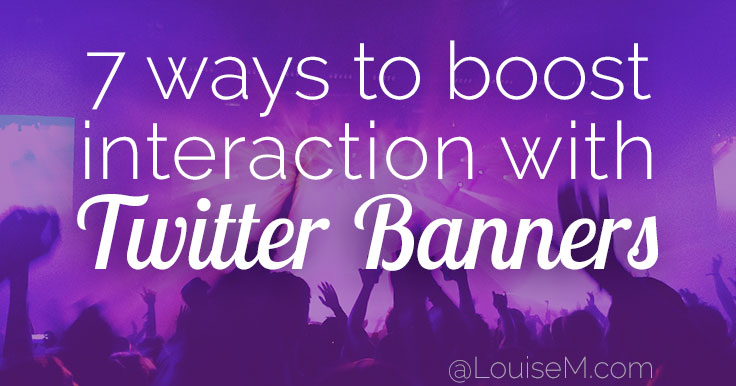 Want to improve your Twitter banners?
Learn to leverage a valuable first impression with these tips!
You are the image that you project: plain and simple. This goes for your personal as well as professional life.
While your company may provide the very best quality products or services, if you don't have an impeccable looking website or social media account, potential customers may think you're a Mickey Mouse concern.
When you consider some of the biggest and most successful brands in the world, their Twitter pages all look highly professional and creatively put together. So, what can you do to leverage your own Twitter banner to increase interaction?
1. First of all, you need to have a brainstorming session to determine the image you with to project.
A factor to consider here is your target audience: what kind of image would appeal to them the most? Are you trying to come across as a fun, professional, or family brand? These are just a few aspects to keep in mind when selecting your banner images.
2. Before you design your desired image, keep in mind that Twitter does have certain rules when it comes to sizing. Your cover picture should be 1500 x 500 pixels, while your profile picture is 400 x 400 pixels square.

3. Your Twitter banner is an excellent marketing tool that should definitely be taken advantage of. For instance, if you have just launched a new product or service, your banner is the ideal place in which to showcase this in a central place.
4. Do you have a company or brand-specific hashtag that you want to get out there? Create a high quality cover photo with the hashtag to attract attention. The banner space is also a perfect place to advertise events such as talks, webinars, new books, and many others!
5. To optimize your Twitter banner, personalize it as much as possible. Use copy that strikes at the core of your offer.
If you must use a stock photo, never use it "as is." Twitter users can generally tell, and this will inevitably detract from the professional image that you are trying to create. Instead, make use of photo editing tools or hire a professional designer to create something compelling to capture the essence of your brand, blog, or company.

6. Share places you or your company has been published, or has gotten press. This show of influence helps people trust you and your information. It's another bit of "social proof."
Other trust factors could include a testimonial, or 3 quick bullet points of your product or service's key value proposition.
7. When it comes to designing the images for your Twitter banner, you should never settle for anything but the very best! Insisting on superior quality design will definitely be well worth the effort and investment in the long run.
Your Twitter banner can be likened to your company's reception area. It's the first port of call that many new and potential clients make when visiting your business. Therefore, extreme care and accuracy need to be taken when selecting your Twitter banner's profile and header photos, as this is a make or break opportunity!
Guest post by Tim Brown, Director of Strategy, Snap Agency Minneapolis.
Designing your own Twitter banners? Be sure to read this post on responsive design for Twitter headers, and get a free template!