"Where to find images for blogs and social media? Google of course! DUH!"
NOOOOOOOOOO! (My reaction pictured below).

The Favorite Way to Find Images for Blogs is the WORST Way!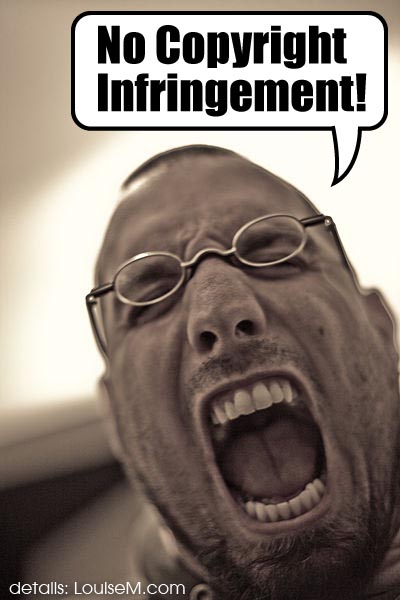 We live in a visually-driven world. Web surfers with little time to read have many blogs and social media sites competing for their attention. To grab their attention and communicate quickly, you need compelling images.
Couple this need with the best search engine on the planet and you've got – a whole lotta copyright infringement goin' on!
Every week I'm amazed to hear another person – who should know better – tell me they're using the wonderful search tool Google Images to find pictures for blogs and social media. "Haven't you noticed the words 'Images may be subject to copyright'?" I ask. I usually get a puzzled look in response.
Per BloggingPro, "The problem with this method of acquiring images is that, under modern copyright law, virtually every image you find on the Web is copyrighted."
If you're Googling images to reuse – please cease and desist immediately. I'll tell you where to find images for blogs and social media that are still free, yet legal.
Photo used by permission. Scream by Crosa via wikimedia.
[pinit]
Where to Find Images for Blogs and Social Media – Free and Legal!

I usually choose to pay a small fee to get top-quality, royalty-free photos with no credit attribution required – more on that in a moment. But here are the top free photo sources I see recommended repeatedly:
Stock.XCHNG: The Stock.XCHNG (or SXC) is a free stock image site where you can use all of the photos for free, most without providing attribution. You can easily search over 350,000 images though you have to be careful to follow the exact license as many photographers add extra terms to their images.
Flickr: Though most of the content on Flickr is copyright protected, you can use the advanced search on the site to look up relevant Creative Commons-licensed photos and artwork. Be careful when using CC-licensed images to ensure that you follow the terms of the license completely.
Wikimedia Commons: Wikimedia Commons is Wikipedia's media end and it has a slew of images available under a variety of licenses ranging from public domain, meaning no copyright, to Creative Commons. Just be careful to reach each license carefully and make sure you comply fully.
U.S. Government Websites: Finally, any and all content produced by the U.S. government is automatically placed into the public domain and is available for use. So, any images you find on a ".gov" site can be used freely, unless otherwise specified.
Caution: Gautam's post says you can use advanced search on Google to limit to Creative Commons work. Be careful that the uploader has the right to make this claim, i.e. they created the art.
Where to Find Free Icons

I often prefer to find free icons instead of taking the time to create them myself. Here are two sites with free icons you may download and use:
Icons Etc. – Icons Etc. offers 128,743 free icons and clipart stock images for web design, application design, graphic design, and many other purposes. All Icons Etc. royalty free stock icons, and stock clipart are free for use in both personal and commercial projects. I like that no attribution or backlinks are required.
Iconfinder – Be sure to check the license filtering. Some images aren't allowed for commercial use, and some require a backlink. But this site does have a great search engine, and a simple dropdown bar to select the licensing that's appropriate for your use.
Embedding Images from Pinterest
This one's a crapshoot. You are trusting that the original "pinner" hasn't infringed on someone's copyright, and that they won't delete the pin. I'd avoid this unless it's your own image from your own pinboard.
Where to Find Images for Blogs and Social Media: Good, Fast & Cheap!
If time is more precious than a dollar or two, here are my favorite sites for professional, royalty-free images. Forget about wasting time poring over hundreds of not-quite-right free photos and do what the pros do: go royalty-free. With either of these sites, a small image runs as low as $1. (Prices checked October 2013).
Fotolia* – Buy a pack of credits for as low as $19.60US. A bit more expensive than dreamstime to get started, but in the long run their prices seem a bit lower. I also find their website clean & attractive, so this is my go-to site now.
Dreamstime* – Buy credits for as low as $14.99US – great if you don't need to buy images often. Used to be my go-to site for free images, but they really cut back on the free selection. Worth a shot though. The image above was altered from a free dreamstime photo. *affiliate link
Boring Legal Stuff about Using Images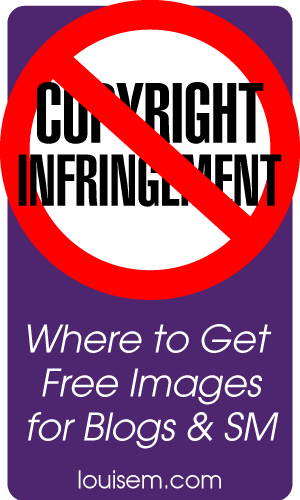 It's really important to attribute free images. Here is a good article on proper attribution.
The royalty-free sites I mention don't require attribution. However – there are restrictions on use. One that surprises many folks: you may not use the images on anything you sell (like T shirts) without buying a special (and much more expensive) license.
Usually you can't resell either free or royalty-free images. Some licenses restrict altering the images. Check first!
Note: I'm not a lawyer and none of this is meant to be legal advice.
UPDATE 8-11-12: I found a great explanation of the problem of stolen images: "One of the biggest mistakes that people believe is that if a work has no copyright notice, it is not copyrighted. The correct form of a copyright notice is 'Copyright or © (date) by (author/owner)' (Templeton 1). Many people believe that if this notice is absent, they can post, use, or take any work on the Internet. In fact, everything from April 1, 1989 is copyrighted by the owner or author whether is has a notice or not. … All Internet users must assume that the work is copyrighted, unless otherwise specified by the author." source
UPDATE 9-9-13: New post! Check out this extensive list of free photo sites. Currently 19 sites on the list, and you can vote on them or add more. Even embed the list on your own site!
That's it! Pin or bookmark this post for the next time you're wondering where to find images for blogs and social media!