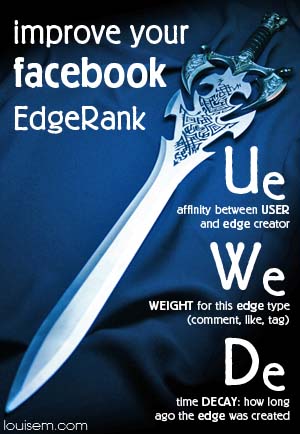 Facebook EdgeRank explained! Learn how to improve EdgeRank so you can increase the number of fans who see your Facebook Fan Page wall posts.
My last post about 3 Easy Ways to Get More Facebook Likes & Comments gave you some great ideas to increase likes and comments on your posts to improve your Facebook EdgeRank. That brought some questions such as, What is EdgeRank?, and why should I care about it?
EdgeRank is Facebook's algorithm for showing wall posts in the news feed. Not all posts are shown to every fan or friend. Facebook plans to keep users on their site by showing only the most interesting content in their news feeds – posts that are popular, relevant, and recent.
How to Improve EdgeRank for Facebook Success: infographic
Facebook's EdgeRank calls their ranking factors Affinity, Weight, and Time Decay, as shown on my graphic at top. But instead of boring you with details, I'm pinning this terrific infographic with permission from postplanner.com (affiliate). Here you'll find a simple explanation of EdgeRank, and some great ideas on how to improve EdgeRank!
Let me know your favorites in the comments!