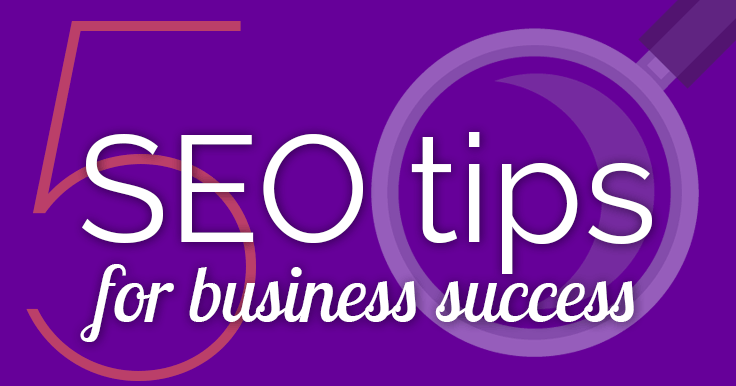 Trying to draw in more traffic to your business website?
Seeking out new ways to attract potential customers to your store?
These SEO tips will help!
Content marketing is a fantastic way to advertise your website and business, increase your site traffic, and thus, multiply the number of potential customers. Many of the world's most successful businesses use it well! Now you can too.
When creating and writing content for your site, the best way to ensure that it reaches the masses is by optimizing your content.
In particular, optimizing your content so it's easily found, recognized and displayed by search engines. This is known as Search Engine Optimization (SEO).
If you're a budding business owner, looking for ways to increase your sales and site traffic, here are five SEO related tips to help you get going in the right direction.
SEO = Keyword Research
Keyword research is one of the most important aspects in SEO. When you're writing your content, whether it's a blog post, homepage content or product descriptions for your store, it cannot be stressed enough that you should research what keywords you're using.
By using tools, such as Google Adwords, you can search words related to your products or business and see what terms people are searching for.
For example, if your business is selling chairs, type 'buy chairs' into Adwords, and you'll receive information on what people are searching for related to buying chairs. You can see how many people have searched what term and what the most popular keywords are.  Use these keywords in your site to start increasing traffic almost immediately.
SEO = Optimizing Your Website
After you've began optimizing your existing content, it's time to start optimizing your website and store.  There are a variety of tools online that can scan your website, returning information on functionality. This will include any broken links, any errors and any duplicate pages you may have.
By fixing links, your sites usability, as well as your overall SEO ranking, will improve tenfold.
It's also a great idea to look into your website speed. Users don't like to wait for things to load. If your website homepage is taking more than 7-10 seconds to load, it's time to start crunching or reducing images and rearranging your layouts.
(article continues after the graphic).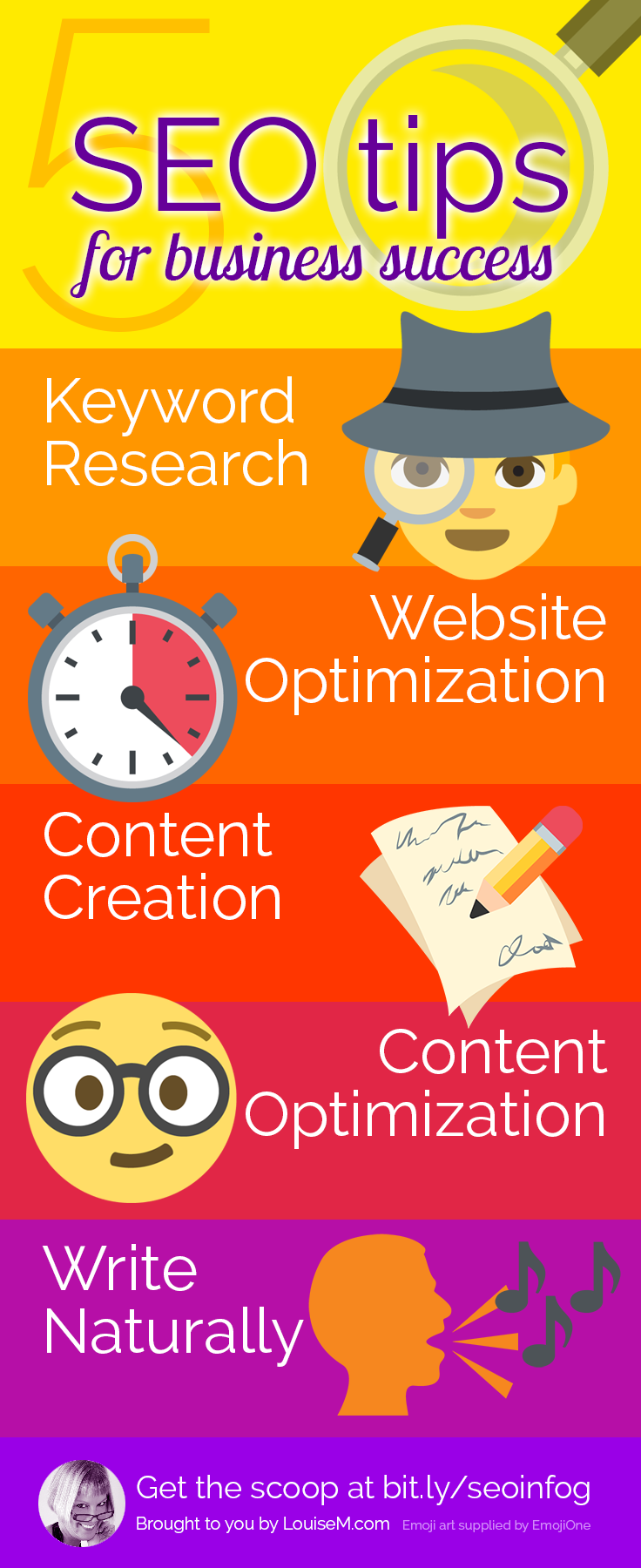 SEO = Creating Blog Content
This means creating engaging and informative content that your readers will enjoy or feel better off for reading.  You can try writing these blog posts yourself, OR tap into the large network of professional writers that can save you the trouble.  Many of these will have fast turnaround times and will also have a basic knowledge of SEO writing. You can find and hire these professional writers on sites such as:
One of the biggest freelancing sites in the world, Upwork is the result of a merge between eLance and oDesk. Here, you'll be able to discover countless writers of various skill sets that will be able to produce high quality articles and blog posts for your business.
Similar to Upwork, simply sign up and search for whatever you want, whether you need blog posts writing, research completed or in need of a website design service.  Cost will vary depending on what freelancer you use but all are verified and you can choose you like using the coveted review system.
Whether you're looking for blog posts, emails, newsletters, social media posts or website copies, Scripted is home to a ton of professional writers ready to write anything you need. This service can be slightly more pricey that the other two, but you are always guaranteed great service and even better content.
Have you joined my FREE content marketing mini-class yet?
Each lesson will arrive as a printable PDF with space
for journaling how you'll apply it to your business.
• • • CLICK to Get your FREE Content Marketing Lessons! • • •
SEO = Optimizing Your Content
Now that you have either written the content for your site yourself, hired a professional, or a mixture of both, it's time to start optimizing that content so it's ready for your site.
If you have hired a professional, this part of the process should have already been completed, but it's so important that you get your blog posts and articles perfect. This means all your spelling and grammar is correct, sentences are well-structured and the overall readability level is up to scratch.
To make this process a lot easier, there are a number of websites and online tools you can use to make sure everything is perfect before launch.
If you're looking for a long term solution to improve your writing skills then Paper Fellows has got a service for you.  By signing up for a free account, you are granted access to hundreds of writing teachers and students around the world, giving you ability to learn more about writing, allowing you to perfect your blog writing skills.
Writing services
When you're making sure your content is site ready, assignment writing service provides a service which allows you to upload your articles to have them proofread and edited to perfection by a professional. With low costs and fast turnaround times, this is a quick solution when you simply do not have time to edit yourself.
When writing articles for your site, it's easy to get carried away with what you're writing and end up with thousands of words on a page. By using Easy Word Count, you are able to track exactly how many words and characters you have used, ensuring you stick to readable lengths for your readers.
SEO = Using Natural Keywords
Keywords have been a recurring point in this article and for a good reason. There are the most important aspect when it comes to writing SEO content. Alongside choosing keywords that appear at the top of the keywords list, ensure you are using natural sounding keywords in your article.
If you're placing long complicated keywords into your article or forcing them in so your sentences do not flow properly, you'll end up turning your readers away and your site will become counter-productive.
Let's Review the SEO Tips for Business Success
We've covered these 5 steps to attract traffic and customers:
Keyword research
Optimizing your website
Creating blog content
Optimizing your content
Using natural-sounding keywords
As an online business owner, it can sometimes seem so daunting, trying to master all these new skills at once, constantly training and trying new approaches. Luckily, with these top five tips behind you, you'll be able to get yourself off to a great start, saving yourself time, which allows you to focus on  the more important parts of your business, maximizing your sales and, most importantly, increasing your website's traffic and potential customer base.
Would your friends or followers enjoy these SEO tips? Please pin, tweet, or share!
Want more SEO tips?
Check out these other articles on LouiseM.com. Links open in same window.
Common SEO Mistakes: 26 pointers on an infographic
Ultimate SEO Guide: 75 tips on an infographic
Powerful SEO Basics for Beginners to Get Google Love!
How Small Businesses Can Improve Local SEO
How to Name Images for SEO in Seconds
SEO and Design: Do You Know the Best Practices?