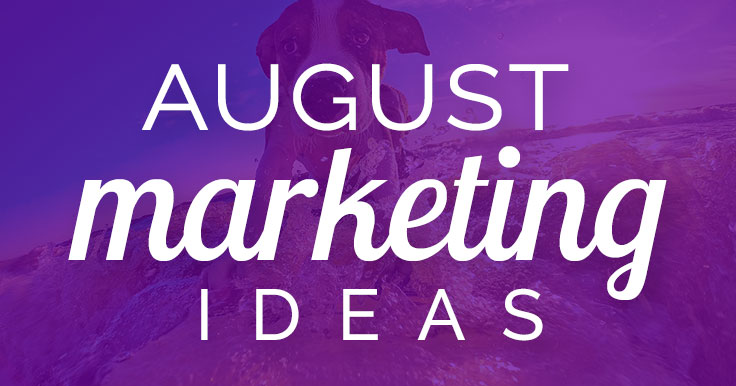 Need August marketing ideas?
It's the dog days of summer, and your marketing motivation may be low.
Is anyone listening, anyway?
Yes, it's a big month for vacations – but there's more!
Parents are prepping for school to start.
Families are thinking about a last-minute trip.
Businesses may be getting ready for Fall's more serious mindset.
Retailers are preparing for Christmas.
Meet your audience where they are. If it seems everyone's kicking back – share fun stuff in that same vein!
There are lots of ideas to choose from. You can even get them in a super-simple to follow format, which you'll hear more about further down.
Don't just take the month off and try to ramp up after Labor Day. Due to the algorithms on search engines and social platforms, your lack of engagement for a long period will have you struggling to climb out of a hole.
Keep active, use automation, and give your audience what they want.

10 August Monthly Holidays
Do any of these resonate with your business and audience? Plan a month-long promotion that might include blog posts, sales, social media posts, contests and more.
Black Business Month
National Win With Civility Month
What Will Be Your Legacy Month
Happiness Happens Month
American Adventures Month
American Artists Appreciation Month
American Indian Heritage Month
Bystander Awareness Month
Children's Vision & Learning Month
Get Ready for Kindergarten Month

August 2021 Weekly Holidays
8 more ideas: These holidays last for a week(ish). Asterisked dates* change year to year.
Dates are correct for 2021 and will be updated each year in early June.
Simplify Your Life Week: 1-7
International Clown Week: 1-7
National Exercise With Your Child Week: 1-7*
National Farmers' Market Week: 1-7*
National Bargain Hunting Week: 2-8* (offer a special sale!)
Elvis Week: 11-17*
National Chef's Appreciation Week: 15-21*
Be Kind To Humankind Week: 25-31

August 2021 Daily Holidays
There aren't any major holidays in August. 🙁
But there are some cool minor holidays!
Even though these holidays aren't known to change annually, I do confirm the date each year in early June. And these dates are correct for 2021!
August 1: World Wide Web Day
August 3: National Watermelon Day
August 4: Single Working Women's Day
August 8: International Cat Day
August 9: National Book Lovers Day
August 10: National Lazy Day
August 12: IBM PC Day
August 15: National Relaxation Day
August 18: Serendipity Day
August 19: World Humanitarian Day
August 22: Be An Angel Day
August 25: National Kiss and Make Up Day
August 26: National Dog Day
August 27: National Just Because Day
August 30: National Toasted Marshmallow Day
Dozens more in my Planner. See below!
Which August Holidays for Your Business?
There are truly holidays for every business and personality. Some days have as many as 8 to choose from!
As I mentioned in the article on Weird Holidays, there are a lot of places online where you can look up hundreds of fun holidays to connect with your followers.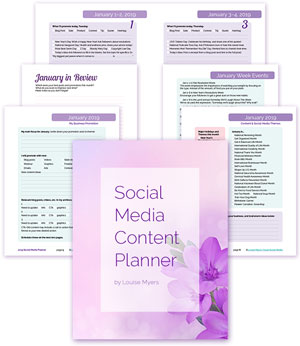 But I can make that easier for you! I've consulted several of these sites and cross-checked the info, so you don't have to.
Then I put the most engaging ideas in a handy, printable Social Media Content Planner.
Plus, I've included ideas on how to use them! And a strategy to ensure that your business promotion gets scheduled first. Then fill in with fun holidays to keep your audience engaged!
Purchase this instant download PDF on a convenient monthly subscription plan. Download next month's calendar today! The following issue will be available on the first of the month. (Drop me a line if you need other options).
Or just grab the FREE August one-sheet content inspiration calendar. One prompt per day, plus room to write in your own ideas on how you'll use it.
Get your high-resolution printable PDF in the FREE Members area!
To sign up for a free membership, click here.
• • • Click here to buy your Social Media Content Planner! • • •
What do you think? Which August marketing ideas will YOU use?