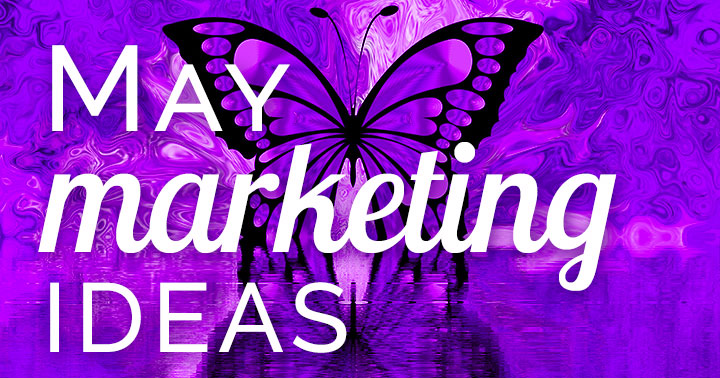 Need May marketing ideas?
If April showers bring May flowers, let this floriferous season inspire your imagery.
This month we celebrate mothers and teachers in the U.S. Most would appreciate beautiful blooms in your social media posts, and even your gift ideas!
It's also a big month for the U.S. military, so get ready to wave the red, white, and blue for your American audience.
If none of this resonates with your business, there are lots more ideas to choose from! You can even get them as ready-to-post content, which you'll hear more about further down.
Pin or tweet, then read on!


10 May Monthly Holidays
Do any of these month-long holidays resonate with your business and audience?
Plan a promotion that could include a blog post series, sales and discounts, social media posts, contests and more.
National Inventors Month
Revise Your Work Schedule Month
National Photo Month
National Egg Month
National Physical Fitness & Sports Month
Teen CEO Month
National Smile Month
Gifts from the Garden Month
National Military Appreciation Month
Family Wellness Month
To carry your theme through to social media, consider making picture quotes.
National Inventors Month calls for creativity quotes.
Or celebrate Gifts from the Garden Month with some short flower quotes or rose quotes.
Try freedom quotes to honor the military this month.

May 2022 Weekly Holidays
8 more ideas: These holidays last for a week(ish). Asterisked dates* change year to year.
Dates below are correct for 2022 and will be updated each year, a few months ahead.
May 1–7* is National Small Business Week
May 1–7* is also National Pet Week
May 2–6* is Teacher Appreciation Week
May 3–9* is Sun Awareness Week
May 6–12 is National Nurses Week
May 8–15* is Work At Home Moms Week
May 15–21* is National EMS Week
May 22–28* is National Backyard Games Week
Find dozens more weekly holidays in this compilation of 495 May holidays with hashtags. There's surely one to fit your niche or cause!

May 2022 Daily Holidays
Two big holidays in May are Mother's Day (May 8*) and Memorial Day (May 30*).
Moms are a huge force in the economy, and in each individual's life. Give 'em some love!
Memorial Day is considered the kickoff of summer in the U.S.
Here are some favorite special days this month:
Asterisked dates* change year to year. Dates below are correct for 2022 and will be updated each year a few months ahead.
May 1 is May Day, Lei Day, and Global Love Day
May 2 is International Harry Potter Day
May 3* is National Teacher Day in 2022
May 4 is Intergalactic Star Wars Day
May 5 is Cinco de Mayo
May 10 is National Small Business Day
May 15 is International Day of Families
May 20 is National Be a Millionaire Day
May 20* is also International Virtual Assistants Day in 2022
May 22 is International Sherlock Holmes Day
May 23 is National Lucky Penny Day
May 27 is Nothing To Fear Day
May 30 is National Creativity Day
May 31 is What You Think Upon Grows Day
There are still more ideas in Your Social Plan. Keep reading!
Which May Holidays for Your Business?
There are truly holidays for every business and personality. Some days have more than 10 to choose from!
I love social media holidays and am compiling huge lists of hundreds for each month.
But just knowing the holidays doesn't mean you'll:
Remember which happens when.
Know how to use them in your marketing.
Or have time to come up with eye-catching images and engaging captions to go with them.
That's why there's Your Social Plan!
Your Social Plan is a daily posting plan that combines beautiful, done-for-you content with powerful business-building prompts so you'll never wonder what to post again.
Each day your business benefits from a combination of 3 posts:
M – Motivational / Inspirational
V – Visibility Boosting (like holidays!)
P – Promotional / Business Building
Check out Your Social Plan now and save hours on your social media marketing this month!
Disclosure: If you purchase, I will earn a commission, at no cost to you.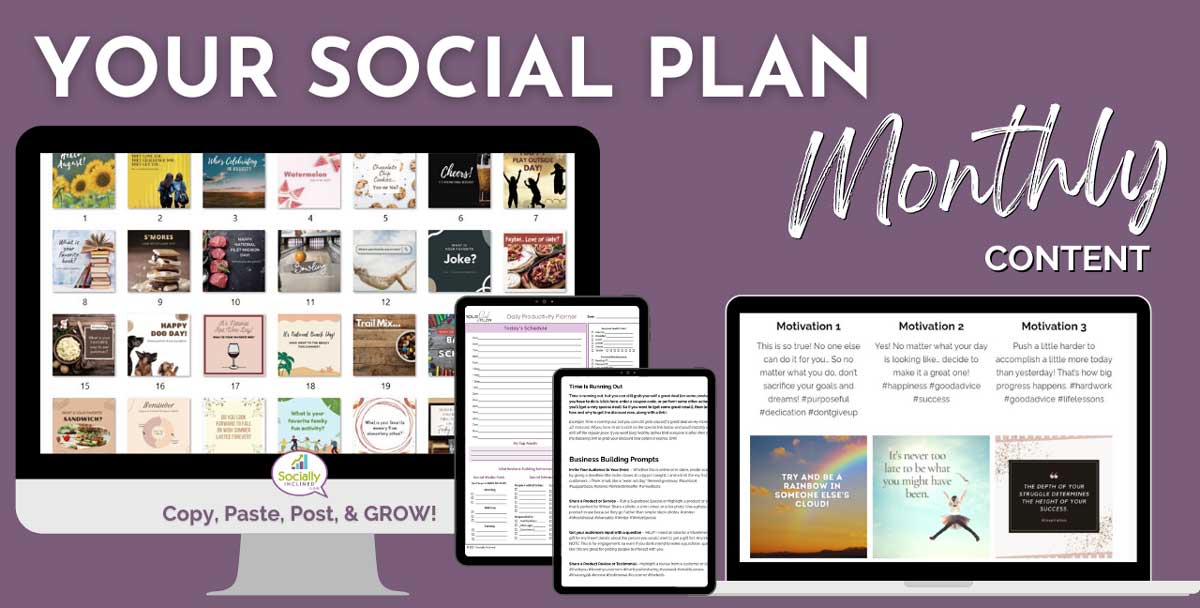 No marketing budget? Grab the free one-sheet content inspiration calendar. One holiday each day, plus room to write in your own ideas on how to use it.
Get a printable PDF or two in the FREE members area.
To sign up for a free membership, click here.
Conclusion
Be sure to pin or tweet this post to let others know about this free resource.
What do you think? Which May marketing ideas will you use for your business?
Or if you're pressed for time, try Your Social Plan for ready-to-post content monthly!