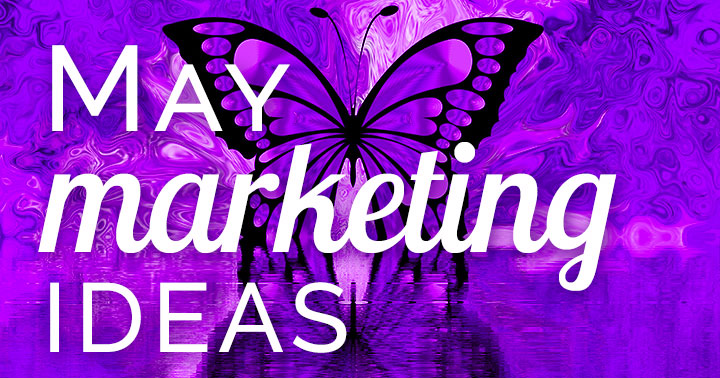 Need May marketing ideas?
If April showers bring May flowers, let this floriferous season inspire your imagery.
This month we celebrate mothers and teachers in the U.S. Most would appreciate beautiful blooms in your social media posts, and even your gift ideas!
It's also a big month for the U.S. military, so get ready to wave the red, white, and blue.
If none of this resonates with your business, there are lots more ideas to choose from! You can even get them in a super-simple to follow format, which you'll hear more about further down.
Pin or tweet, then read on!


10 May Monthly Holidays
Do any of these month-long holidays resonate with your business and audience?
Plan a promotion that could include a blog post series, sales and discounts, social media posts, contests and more.
National Inventors Month
Revise Your Work Schedule Month
National Photo Month
National Egg Month
National Physical Fitness & Sports Month
Teen CEO Month
National Smile Month
Gifts from the Garden Month
National Military Appreciation Month
Family Wellness Month

May 2019 Weekly Holidays
8 more ideas: These holidays last for a week(ish). Dates are correct for 2019 and will be updated each year.
April 28–May 4 is National Small Business Week
May 1–7 is Choose Privacy Week
May 5–11 is Teacher Appreciation Week
May 5–11 is National Pet Week
May 5–11 is National Wildflower Week
May 6–10 is PTA Teacher Appreciation Week
May 12–18 is Work At Home Moms Week
May 20–27 is National Backyard Games Week

May 2019 Daily Holidays
Two big holidays in May are Mother's Day (May 12) and Memorial Day (May 30).
Moms are a huge force in the economy, and in each individual's life. Give 'em some love!
Memorial Day is considered the kickoff of summer in the U.S.
Here are some favorite special days this month:
Dates below are correct for 2019 and will be updated each year.
May 1 is May Day, Lei Day, and Global Love Day
May 4 is Intergalactic Star Wars Day
May 5 is World Laughter Day
May 7 is National Teacher Day
May 8 is the Great American Grump Out
May 15 is International Day of Families
May 17 is International Virtual Assistants Day
May 18 is Armed Forces Day
May 20 is National Be a Millionaire Day
May 22 is International Sherlock Holmes Day
May 23 is National Lucky Penny Day
May 23 is Eat More Fruits & Vegetables Day
May 27 is Nothing To Fear Day
May 30 is National Water a Flower Day
May 31 is What You Think Upon Grows Day
Dozens more in my Planner. See below!
Which May Holidays for Your Business?
There are truly holidays for every business and personality. Some days have as many as 8 to choose from!
As I mentioned in the article on Weird Holidays, there are a lot of places online where you can look up hundreds of fun holidays to connect with your followers.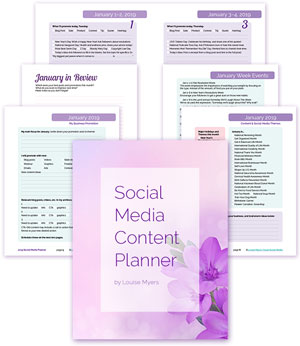 But I can make that easier for you! I've consulted several of these sites and cross-checked the info, so you don't have to.
Then I put the most engaging ideas in a handy, printable Social Media Content Planner.
Plus, I've included ideas on how to use them! And a strategy to ensure that your business promotion gets scheduled first. Then fill in with fun holidays to keep your audience engaged!
Purchase this instant download PDF on a convenient monthly subscription plan. Download next month's calendar today! Your next issue will be available on the first of the month. (Drop me a line if you need other options).
Or just grab the FREE May one-sheet content inspiration calendar. One prompt per day, plus room to write in your own ideas on how you'll use it.
Get your high-resolution printable PDF in the FREE members area!
To sign up for a free membership, click here.
• • • Click here to get your Social Media Content Planner! • • •
Be sure to pin or tweet this post to let others know about this free resource.
What do you think? Which May marketing ideas will you use for your business?