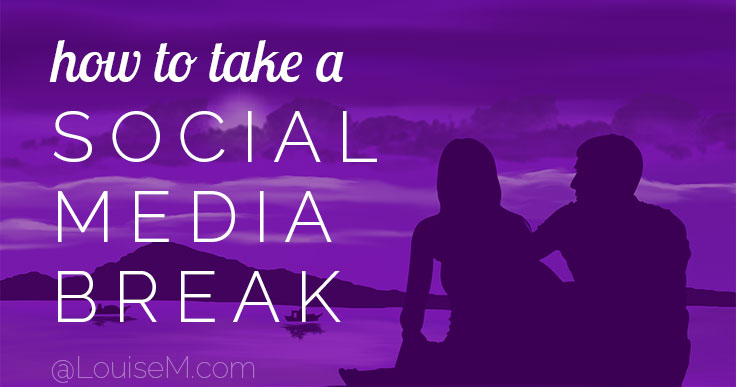 Need to take a social media break?
Occasionally, you want or need a break from constantly using social media for business.
There are vacations, holidays, and important life events to enjoy.
Thanksgiving, Christmas, Hanukkah, Kwanzaa, New Years… coming up fast and furiously!
YES, it's become increasingly easy to stay connected everywhere, any time of day. But that doesn't mean it's healthy for you, or your business!
If you don't think you a break, then maybe you really need one! Does you family remember what you look like? 😉
But what's the best way to handle it? Here are some options.

How to Take a Social Media Break for Your Business
Some of us (who, me?) can get a bit obsessed about our social media stats: Facebook engagement, retweets, Klout score, blog traffic.
You may want to keep things from crashing in your absence, so you don't feel like you're starting over when you return.
If you're a solopreneur wearing all the hats in your biz – here are my suggestions for each social media platform.
How to Take a Blog Break

Write some blog posts before your break, and schedule them to be published in your absence. Feel free to reduce the frequency: if you normally post 2 – 3 times a week, schedule one. If you post weekly, schedule every other week.
If you usually get comments, I think it would seem strange to turn them off, but that's an option. Or, you could mention at the end of each new post that you'll reply to comments after a certain date. Don't forget to remove that when you return!
If you don't want people to suspect you're away for security reasons, then don't post that notice.
If you've set up a blog broadcast with your email provider, you'll also be staying in touch with your email list while you're on blog break! AWeber is one who offers this service. You can try them out for just $1.
Another great idea is to accept some guest bloggers to contribute during your blog break! What's cool about this is, your guest writers will be happy to promote their own posts and answer comments. So choose wisely, and relax knowing your blog is in good hands.
If you've never scheduled posts before, here's how to do it on a WordPress blog:
How to Take a Social Media Break from Twitter

I find Twitter the easiest to take a break from! I do it every weekend. I tweet on weekends, but I don't respond to others. All my tweets are scheduled in advance!
Have you tried HootSuite? To me, it's a game changer. Go with the Pro version at $9.99 a month, and use the bulk upload. Learn how to bulk schedule tweets with images. My best Twitter tip!
• • • Try HootSuite for FREE • • •
(proud to be a HootSuite affiliate!)
Or, you could just stop tweeting during your break. But if you do that for too long, you'll lose followers.
Another option is to set up your WordPress blog with the plugin Revive Old Post – it's amazing. You may even want to use it when you're not on break!
If you're worried about new tweeps unfollowing when you don't follow them back right away, you could set up automatic follow-backs with Social Oomph. I figure if people are truly interested in me, though, they'll stick around.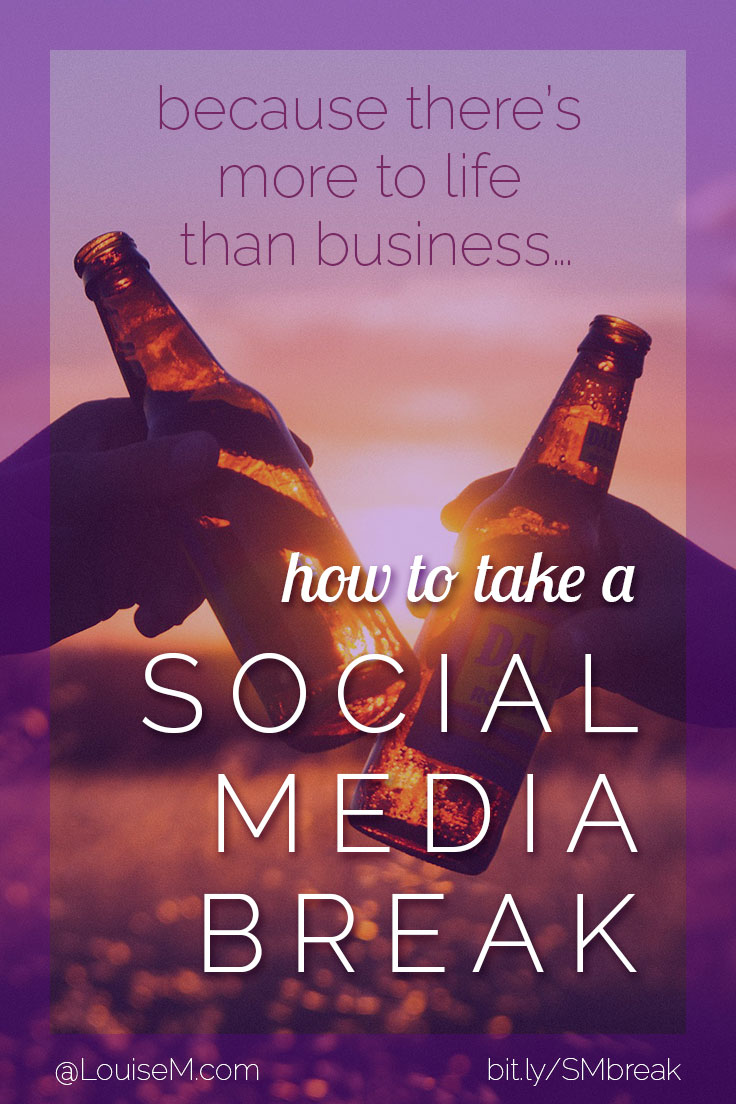 How to Take a Social Media Break from G+, LinkedIn, Instagram

If you post to Google+ or LinkedIn, you can schedule updates for those with HootSuite as well. In fact, you can schedule and automatically publish 100's of messages to unlimited social profiles with a Pro account.
Another option for G+ personal profiles is Friends+Me (affiliate). It supports publishing to Google+, Linkedin, Twitter, Facebook, Pinterest, and Tumblr.

And yes – you can schedule Instagram posts on HootSuite too! Now, the difference with IG is that you must do the actual posting from your phone. HootSuite will send a reminder to your phone at the time you scheduled, including the image and caption you set in advance.
This is the only way to schedule that's endorsed by Instagram. There are numerous tools that help you schedule to Insta – but if they do the posting for you, there's a chance your account could be closed.
If you want to see options, read this for more ways to schedule posts to IG.
Or just give HootSuite a try! It's pretty much a one-stop shop for social media scheduling. I find that very handy!
How to Take a Social Media Break from Pinterest

You won't believe how easy this one is – unless you already know about Tailwind!
Tailwind is a Pinterest lover's dream. You can schedule hundreds of Pins and Repins well in advance. I have 250+ scheduled right now, and they go out months. That's because I can schedule them to multiple boards at any interval I choose, with just a few clicks. Tailwind picks the perfect times for them to post. And does it all for you!
I won't go into details here, but I suggest you just jump in and try it – for free! It's under $10 a month if you pay for a year, and it just could change your life – or at least your blog traffic and business. 😉
Tailwind saves you time all the time, not just when you're going on holiday. I love it.
• • • Try Tailwind for FREE • • •
(proud to be a Tailwind affiliate!)
How to Take a Social Media Break from your Facebook Fan Page

Now – the biggie. Due to Facebook's news feed algorithm, taking a break will hurt your Page. You've got to keep your Fans engaged with your posts so Facebook will show your posts to more Fans, so you can engage those Fans so Facebook… well, you get the idea. It's rather a vicious cycle.
Now, if you have an active and supportive community, you may be fine. They may carry on without you – especially if you clue them in to what's going on ahead of time. But – you'll still need to come up with and schedule content ahead of time.
You can schedule pictures and quotes with HootSuite, PostPlanner, OR – just use Facebook's own in-app scheduler. It's a little time-consuming but it does work!
You can set your not-published-yet blog posts to post (and tweet) with Networked Blogs.
Asking questions on Facebook is great for engagement, but I wouldn't do it if I won't be around to respond. It seems disingenuous to me.
When you return, you could run some Facebook ads, or a contest, to spark Fan engagement again.
Oh yeah, you can set up those Facebook ads amazingly fast in HootSuite, too! Here's how.
Will You Take a Social Media Break?
If you do decide to take a break, I hope you find these ideas helpful. And if you know someone who needs a social media break – do them a favor and share this post!