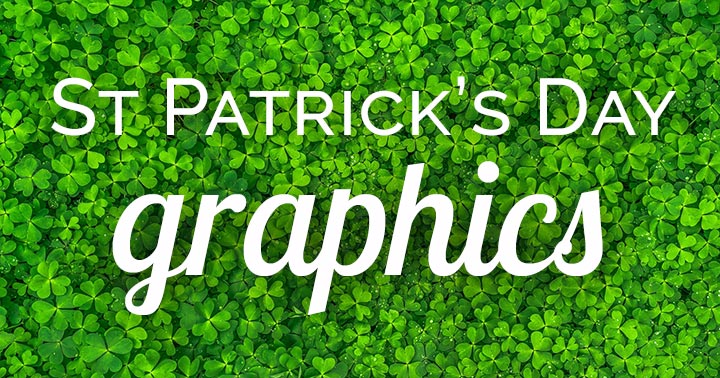 Is your social media ready for the wearin' o' the green?
It's time for St. Patrick's Day graphics!
Make 'em yourself with the 25 best St Patrick's Day quotes listed below.
You can use my favorite easy design tools! They're perfect for small business owners who want to get engagement on social media – without the hassle of pro software.
But first I have a story about a St Patrick's Day graphic that went viral…

Disclosure: This article contains affiliate links, which means if you decide to purchase via my link, I'll receive a referral fee. Thanks for supporting my free content!
St. Patrick Day Graphics: A Cautionary Tale
This clever St Patrick's Day graphic was created by my friend Jeff Schinkel in 2013.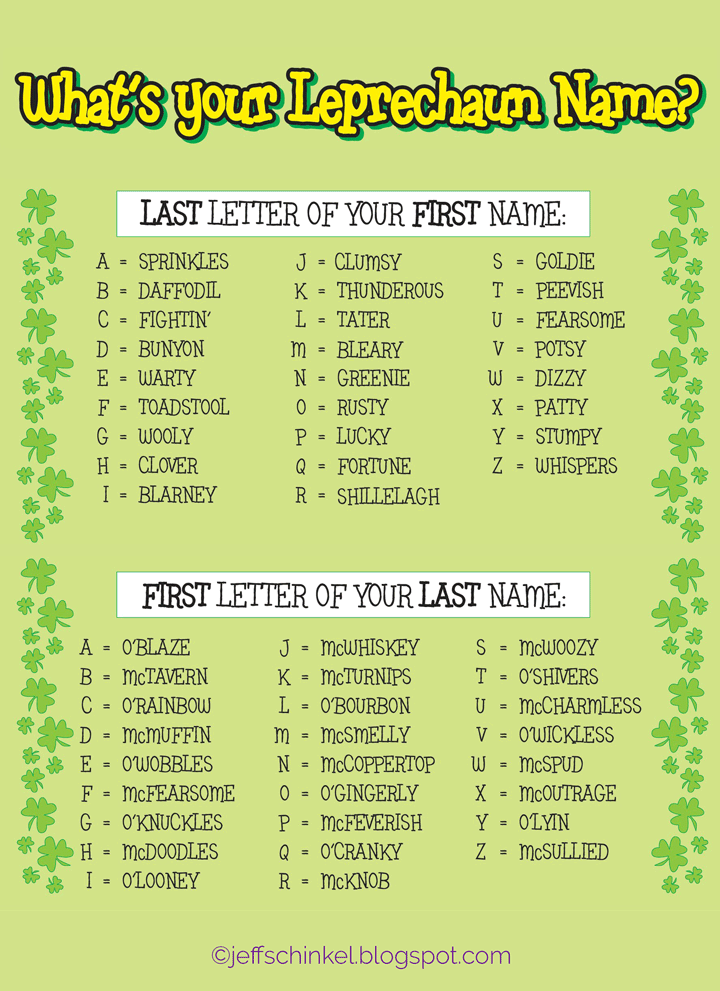 He did not watermark his image.
George Takei (who had 3.6 million fans at the time) somehow came across this graphic and posted it on his very popular Facebook Fan Page.
Soon, St Patrick's Day graphics were taking over Facebook, with over 45,000 shares in 4 hours! It eventually reached over 100,000 shares.
Side note: I wrote about this in 2014 and have no idea how viral this eventually went. But even Jeff's original post on his personal profile now has 14,383 Shares and 1.1 million Likes!
No name, no credit for my friend. (I added a watermark for this article).
Now you, my entrepreneurial friend, will not let this happen to you!
If you're like me, you are probably fighting that little green monster of envy, thinking of all the publicity… if only.
If only he'd thought to watermark his images!
Don't let this happen to you:
Read my post on Free Watermark Software & Sites to Watermark Online
OR read on for easy design tools that let you quickly add your logo to everything you create!
If you want to share Jeff's St. Patrick's Day graphic on Facebook, please go to his original post to share on Facebook. Don't download! Unless you have permission, it's copyright infringement – whether you see a copyright symbol or not.
Easiest Way to Make St. Patrick's Day Graphics
You'll love this super easy method for making social media images with Stencil.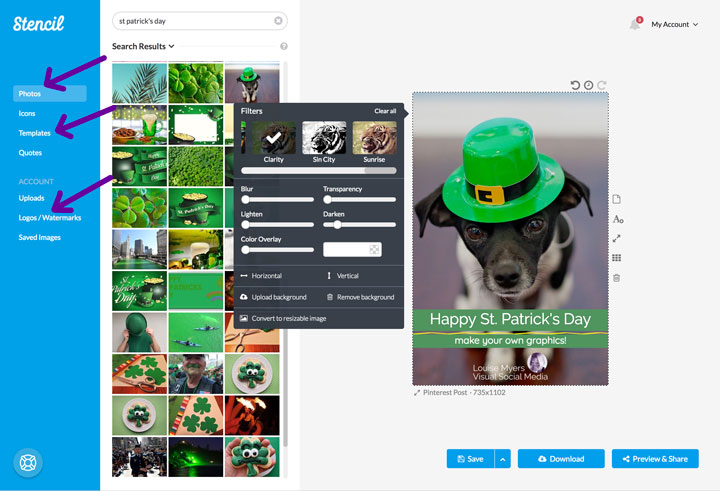 Option 1: Use a template (shown above).
Go to Stencil.
Go to Templates and find a template to use (I looked in Celebrations).
Go to Photos and search "st patrick's day". Pick a photo to use. Edit if desired.
Change up colors and text.
Go to Logos/Watermarks and add your branding.
Download or schedule to social right from Stencil!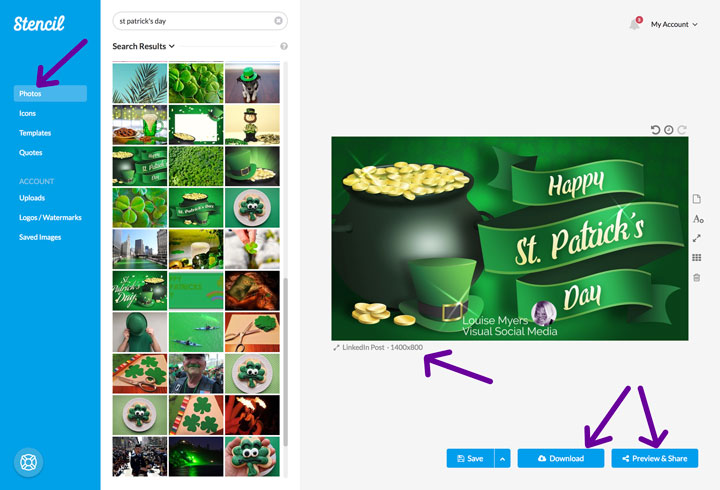 Option 2: Easy as pie (shown above).
Go to Stencil.
Go to Photos and search "st patrick's day". Pick a photo or graphic to use.
Choose a shape that fits your chosen image and/or social network of choice.
(optional) Go to Logos/Watermarks and add your branding.
Download or schedule to social right from Stencil!
Yes! There are some pre-made graphics right inside Stencil that are free for commercial use!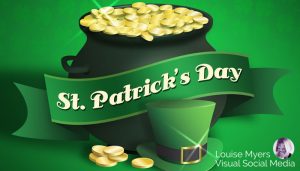 . . . . . .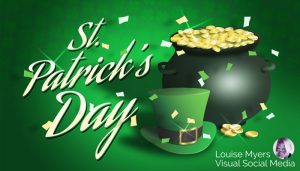 Now, if this isn't enough options for you, scroll on down for another tool that's lots of fun.
But if you'd like to jump right in and try Stencil, there's a free version with limited downloads.
Love it? (I think you will!) Upgrade and save 10% with my code LOUISE10.
• • • Click here to try Stencil for FREE • • •
25 Best St. Patrick's Day Quotes and Sayings
Need some words for your images?
While there are thousands of quotes at your fingertips inside Stencil, below you'll find the top Irish quotes, sayings, and proverbs.
This image was made in Stencil. I worked off the same template I used above! (puppy)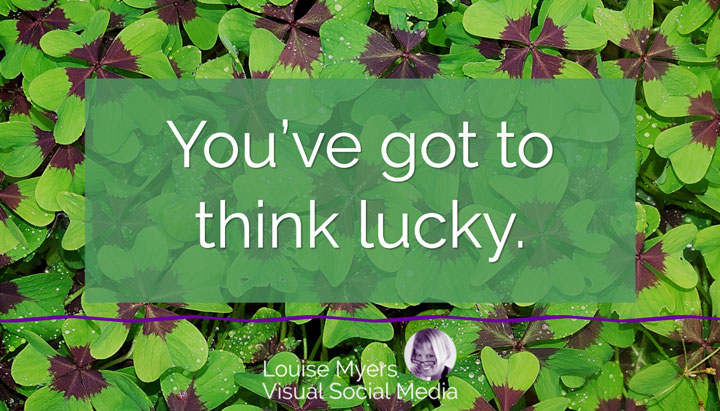 There are only two kinds of people in the world, the Irish and those who wish they were.
May the luck of the Irish be with you!
If you're enough lucky to be Irish… You're lucky enough!
In heaven there is no beer. That's why we drink it here!
Luck is believing you're lucky. ~Tennessee Williams
Do not resent growing old. Many are denied the privilege.
May your home always be too small to hold all your friends.
May you always have a clean shirt, a clear conscience, and enough coins in your pocket to buy a pint!
Lose an hour in the morning and you'll be looking for it all day.
St. Patrick's Day is an enchanted time – a day to begin transforming winter's dreams into summer's magic. ~Adrienne Cook
Better good manners than good looks.
Life is like a cup of tea; it's all in how you make it!
May neighbours respect you, trouble neglect you, the angels protect you, and Heaven accept you.
Some cause happiness wherever they go; others whenever they go. ~Oscar Wilde
It's easy to halve the potato where there's love.
A good laugh and a long sleep are the two best cures.
May the saddest day of your future be no worse than the happiest day of your past.
Luck is when an opportunity comes along and you're prepared for it.
What do you get when you cross poison ivy with a four-leaf clover? A rash of good luck.
May misfortune follow you the rest of your life, and never catch up.
You've got to think lucky.
If a man who cannot count finds a four-leaf clover, is he lucky?
Love is never defeated, and I could add, the history of Ireland proves it. ~Pope John Paul II
Who keeps his tongue keeps his friends.
May you get all your wishes but one, so that you will always have something to strive for!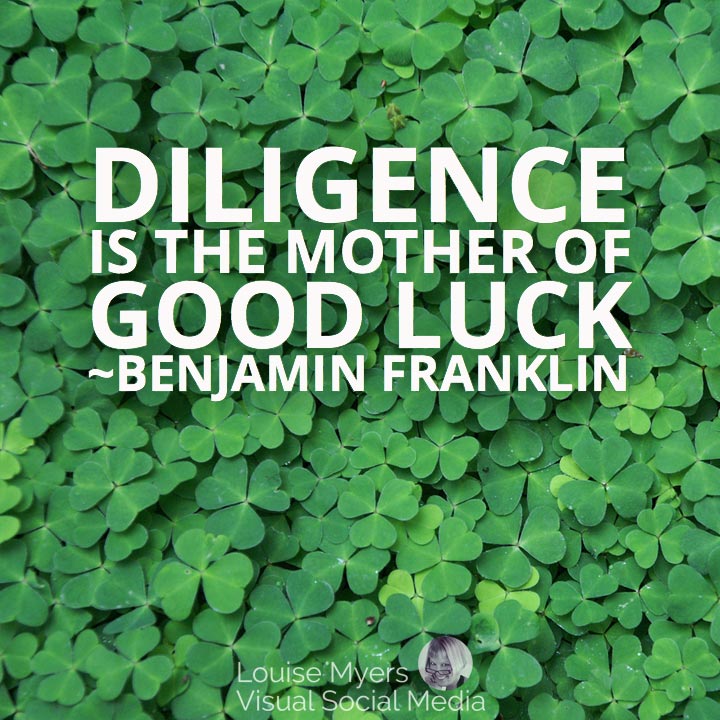 Make Clever St. Patrick Day Graphics
Here's another option for making social media graphics: PromoRepublic.
If you like to post about fun and weird holidays, you should definitely check this one out.
They've got the hugest selection of fun holiday graphics I've ever seen, with one or two ideas for virtually every day of the year. And almost a dozen for St. Patty's Day!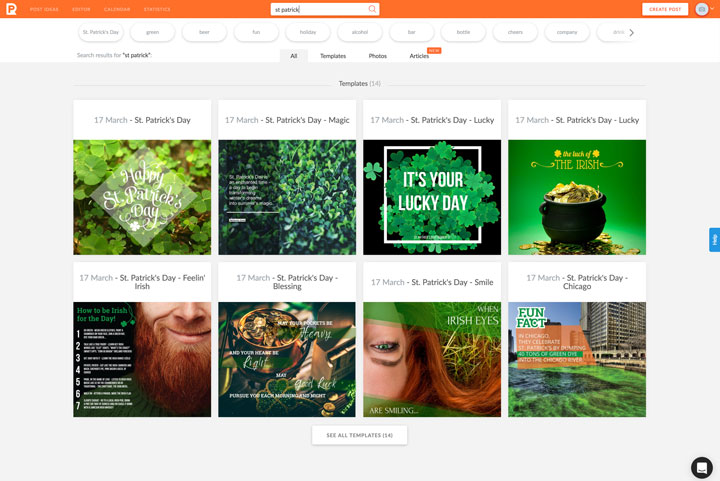 They have some really engaging visuals and mini-infographics that you can edit to suit your brand colors, or just add your own logo to.
I gotta be honest though, these work best in the default "Facebook post" format. If you want to change the shape on an intricate graphic, you'll end up frustrated – too many things to adjust.
So stick with Facebook post – it'll work fine there, as well as Instagram, Twitter, and LinkedIn (and you can schedule it right inside PromoRepublic!).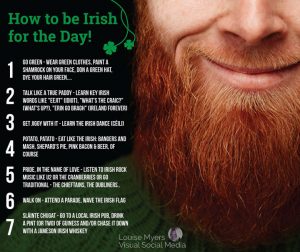 . . . . . .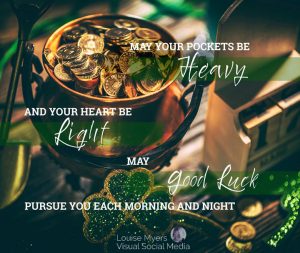 4 steps to fun St Patrick's Day memes in PromoRepublic:
Open PromoRepublic.
Search "st patrick" and select a result (additional keywords at the top for more choices).
Click "Edit" and add your logo under "Uploads."
Download, or add a message and schedule to your social accounts!
• • • Click here to try PromoRepublic for FREE • • •
Conclusion: Get set for St. Patty's!
Go make some social media posts! But first, tell me your leprechaun name in the comments 🙂
Try Stencil – don't forget to save 10% with my Stencil promo code LOUISE10.
• • • Click here to try Stencil for FREE • • •
Then create St. Patrick's Day graphics.Sure and begorrah!