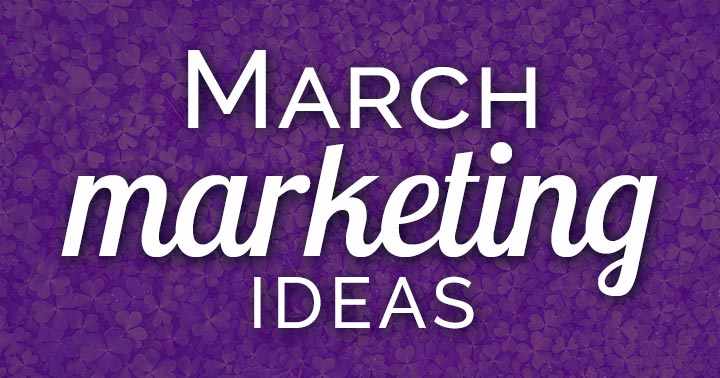 Need March marketing ideas?
March 20 is the first day of Spring! How can you encourage your audience to "spring" into action this month?
Do you offer something that would help followers do a "Spring cleaning" in their life, home, or business?
Or just offer the encouragement of the flowers and better weather to come.
If none of this resonates with your business, there are lots more ideas to choose from. You can even get them in a super-simple to follow format, which you'll hear more about further down.
Pin or tweet, then read on!

March Monthly Holidays
Do any of these 12 month-long holidays resonate with your business and audience?
Plan a promotion that could include a blog post series, sales and discounts, social media posts, contests and more.
International Ideas Month
National Athletic Training Month
Employee Spirit Month
International Listening Awareness Month
Irish-American Heritage Month
National Ethics Awareness Month
National Nutrition Month
Red Cross Month
National Craft Month
National Women's History Month
International Mirth Month
National Clean Up Your IRS Act Month

March 2018 Weekly Holidays
8 more ideas: These holidays last for a week(ish). Dates are correct for 2018 and will be updated each year.
March 1–7 is National Cheerleading Week
March 4–10 is Celebrate Your Name Week
March 4–10 is Teen Tech Week
March 4–10 is National Consumer Protection Week
March 18–24 is World Folk Tales and Fables Week
March 19–25 is Act Happy Week
March 19–25 is Wellderly Week
March 25–31 is Holy Week

March 2018 Daily Holidays
A big holiday in March is St. Patrick's Day (March 17). This holiday "colors" the month of March green! If it suits your brand personality, don't be afraid to start celebrating leprechauns, rainbows, and a pot of gold from the beginning of the month.
Dates below are correct for 2018 and will be updated each year.
Here are some favorite special days this month:
March 1 is World Compliment Day
March 2 is National Read Across America Day / Dr. Seuss Day
March 4 is the 90th annual Academy Awards
March 7 is National Be Heard Day (a day to celebrate and promote small business)
March 8 is International Women's Day
March 10 is the Day of Awesomeness
March 11: Daylight Saving Time begins
March 13 is Organize your Home Office Day
March 14 is National Pi Day / Albert Einstein's birth date
March 15 is Companies That Care Day
March 19 is Client's Day
March 20 is International Day of Happiness
March 21 is Twitter's 12th birthday
March 23 is National Puppy Day
March 26 is the 1st Live Long And Prosper Day (Leonard Nimoy's birth date) #llap
March 27 is Celebrate Exchange Day (a day for businesses to share ideas)
March 29 is National Mom and Pop Business Owners Day
March 31 is World Backup Day
Dozens more in my Planner. See below!
Which March Holidays for Your Business?
There are truly holidays for every business and personality. Some days have as many as 8 to choose from!
As I mentioned in the article on Weird Holidays, there are a lot of places online where you can look up hundreds of fun holidays to connect with your followers.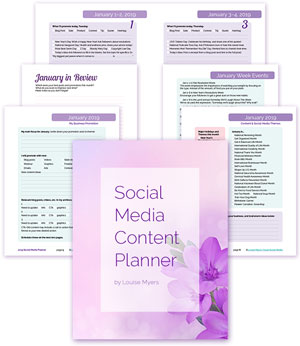 But I can make that easier for you! I've consulted several of these sites and cross-checked the info, so you don't have to.
Then I put the most engaging ideas in a handy, printable Social Media Content Planner.
Plus, I've included ideas on how to use them! And a strategy to ensure that your business promotion gets scheduled first. Then fill in with fun holidays to keep your audience engaged!
Purchase this instant download PDF on a convenient monthly subscription plan. Choose to access either one month ahead or two months ahead (for you super planners!).
Or just grab the FREE March one-sheet content inspiration calendar. One prompt per day, plus room to write in your own ideas on how you'll use it.
You can simply download the low-res version by right-clicking on the image above. Or get a high-resolution printable PDF in the Free Members area!
To sign up for a free membership, click here.
• • • Click here to become a FREE member! • • •
Be sure to pin or tweet this post to let others know about this free resource.
What do you think? Which March marketing ideas work for your business?