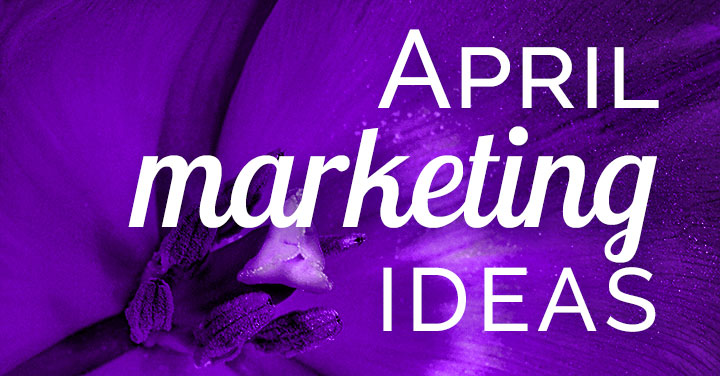 Need April marketing ideas? Think Spring!
In the Northern Hemisphere, most folks are sick of Winter and are ready to welcome some lovely Spring imagery.
Do you offer something that would help followers experience a "rebirth" in their life, home, or business? Tap into this theme of renewal.
It's also a big month for gardening, growing, and "greening," with Earth Day and Arbor Day. Perhaps your theme this month could be growth or conservation.
If none of this resonates with your business, there are lots more ideas to choose from! You can even get them in a super-simple to follow format, which you'll hear more about further down.
Pin or tweet, then read on!


10 April Monthly Holidays
Do any of these 10 month-long holidays resonate with your business and audience?
Plan a promotion that could include a blog post series, sales and discounts, social media posts, contests and more.
International Customer Loyalty Month
National Card and Letter Writing Month
National Pet Month
National Humor Month
Keep America Beautiful Month
Global Child Nutrition Month
Jazz Appreciation Month
National Decorating Month
Informed Women Month
Workplace Conflict Awareness Month

April 2021 Weekly Holidays
8 more ideas: These holidays last for a week(ish).
*Asterisked dates change from year to year. Dates are correct for 2021 and will be updated each year in early February.
April 1–7 is Laugh at Work Week
April 4–10* is National Library Week
April 5–9* is Explore Your Career Options Week
April 10–17* is Money Smart® Week
April 17–25* is National Park Week
April 18–23 is Consumer Awareness Week
April 18–24* is National Volunteer Week
April 19–23* is National Environmental Education Week

April 2021 Daily Holidays
Two big holidays in April are April Fools Day and Easter. April Fools always falls on the 1st.
Easter Sunday 2021 is April 4th.
If it suits your brand personality, have some fun with April Fools! Heard of ShuberX?
Promotion noted at end of video may no longer be valid 😉
Here are some favorite special days this month:
*Asterisked dates change from year to year. Dates are correct for 2021 and will be updated each year in early February.
April 1* is National Fun at Work Day
April 2* is Walk to Work Day (and also Good Friday)
April 3* is DIY Day
April 10 is National Siblings Day
April 11 is National Pet Day
April 14 is Int'l Moment of Laughter Day
April 15 is World Art Day (DaVinci's birth date)
April 15* is Get to Know Your Customers Day
April 20 is National Look-Alike Day
April 21 is World Creativity and Innovation Day
April 22 is Earth Day
April 23 is National Take a Chance Day
April 26 is National Kids and Pets Day
April 28 is Pay It Forward Day
April 30 is National Honesty Day
Dozens more in my Planner. See below!
Which April Holidays for Your Business?
There are truly holidays for every business and personality. Some days have as many as 8 to choose from!
As I mentioned in the article on Weird Holidays, there are a lot of places online where you can look up hundreds of fun holidays to connect with your followers.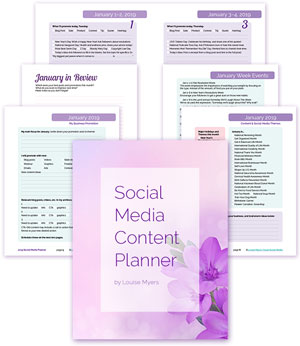 But I can make that easier for you! I've consulted several of these sites and cross-checked the info, so you don't have to.
Then I put the most engaging ideas in a handy, printable Social Media Content Planner.
Plus, I've included ideas on how to use them! And a strategy to ensure that your business promotion gets scheduled first. Then fill in with fun holidays to keep your audience engaged!
Purchase this instant download PDF on a convenient monthly subscription plan. Download next month's calendar today! Your next issue will be available on the first of the month. (Drop me a line if you need other options).
Or just grab the FREE April one-sheet content inspiration calendar. One prompt per day, plus room to write in your own ideas on how you'll use it.
Get your high-resolution printable PDF in the FREE members area!
To sign up for a free membership, click here.
• • • Click here to buy your Social Media Content Planner! • • •
What do you think? Which April marketing ideas work for your business?