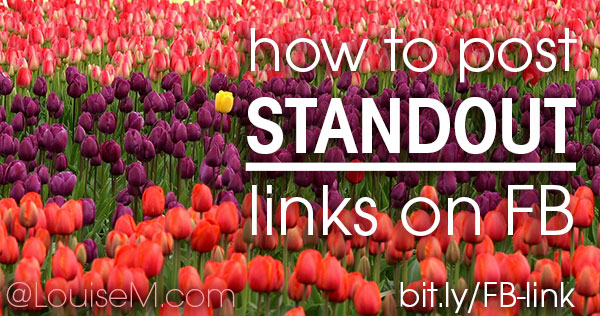 How to post a link on Facebook so your Fans will see it?
Post a link with a BIG image!
Updated August 2014: Posting links on Facebook the usual way now includes larger thumbnails – as long as the post includes an image that meets the minimum Facebook link image size. This works WAY better than the ones with mini-images we had a year ago.
But if you post a lot of links, it's good to mix it up. Here, I'll show you how to make BIG photo posts, with the link in the text. You can upload any size or shape image you choose, and have your link show up in news feeds with an eye-grabbing visual!
As a bonus, posting a link with a photo makes it super easy to edit your text later 🙂
How to Post a Link on Facebook with a BIG Visual!
Posting a Facebook link with image is easy as 1-2-3! Here's the step-by-step.
1. Go to the Status at the top of your Fan Page and type a bit about your blog post, including the full URL. It's recommended not to use shortened URLs on Facebook, so users know where they're going if they click the link.

The usual thumbnail preview will appear. Ignore it for now!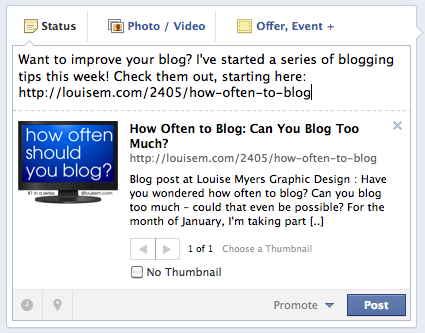 2. Click Photo/Video at the top of your update, then Add a Photo/Video, and choose the image to upload. Best Facebook photo size: minimum 504 pixels square, up to 1200 px square.
Notice that the link preview is gone – good!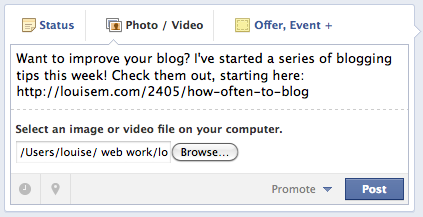 3. Click Post, and you've got a Facebook link with image! Enjoy the big, eyecatching image in the news feed.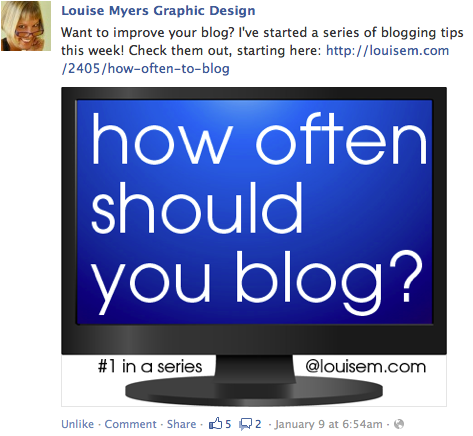 Are Your Facebook Links Getting Noticed?
Social Media Examiner has verified that the technique of posting a link with an image is getting them lots more click-throughs to their blog posts.
Like this post?
Share it with the LARGE image below, so others can see how to post a link on Facebook with an eyecatching image!
Need more help on Facebook basics? Check out this new course from Mari Smith! [aff]