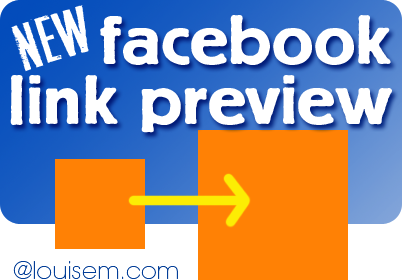 Have you seen the new, bigger Facebook link preview?
On January 17, I dropped in my Facebook group and saw that the link preview size had changed within the hour – around 10am Pacific.
Wow, the change in preview size was dramatic! Will the larger link preview garner more engagement and click-throughs? [pinit]
New, Bigger Facebook Link Preview: Will It Mean More Clicks?
Facebook posts with links have had notoriously poor engagement. Reportedly, Facebook is now increasing the size of link previews to make them more prominent in the news feeds. This change is rolling out globally, and for now, will only affect the desktop design.
Lower link posted at 9:59am PST January 17, upper link 47 minutes later.
The new link preview size won't affect video links, as Facebook prefers that users upload videos to Facebook, instead of driving users offsite. But it's awesome that Facebook apparently wants to help Fan Pages drive their fans to their company's website or blog!
This should also increase traffic when your site's readers share links to Facebook. The shared links will be more noticeable in people's feeds, and should result in a higher click rate.
Of course, you have social sharing enabled on your website's posts and pages, right?
The change from 90×90 pixels to 154×154 pixels square nearly triples the amount of pixels, and also adds more space for the link description. It underscores the continuing emphasis on the importance of visual content. Be sure your site has the best blog images – my post makes it easy! And be sure your images are at least 200 pixels square, per this information from Facebook's developer blog:
Now, when a person shares a link to a page in your application that contains a large image (200 x 200 pixels or larger), it will be presented more prominently in news feed. These larger images draw higher engagement from friends, which drives more people to your app.

To take advantage of this improvement, be sure to include large images and tag them appropriately. Please provide the largest images you have, and we will automatically down-sample and crop them for people based on the device they're using. For more information, please see our documentation and best practices.
My next post will explore the numerous ways you can post a link to Facebook. You'll want to keep an eye on your Facebook insights to see what has the best reach, engagemen, and clicks on YOUR page.
In the meantime, what do you foresee – will the larger Facebook link preview get more clicks?