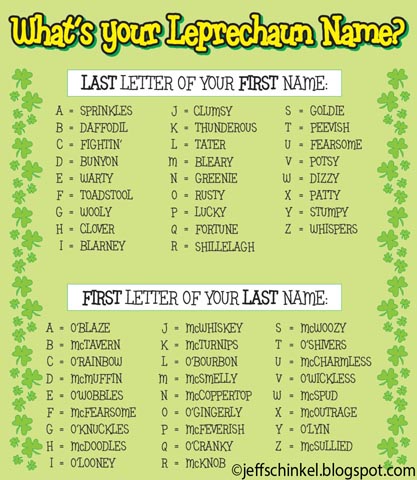 This clever St Patrick Day graphic was created by my friend, Jeff Schinkel, aka Kar2oonMan, last year.
He did not watermark his image.
George Takei (who had 3.6 million fans at the time) somehow came across this graphic and posted it on his very popular Facebook Fan Page.
Soon, St Patrick Day graphics were taking over Facebook, with over 45,000 shares in 4 hours! It eventually reached over 100,000 shares.
No name, no credit for my friend. (I added a watermark for this article).
Now you, my entrepreneurial friend, will not let this happen to you! If you're like me, you are probably fighting that little green monster of envy, thinking of all the publicity… if only.
If only he'd thought to watermark his images!
And since you're not going to let this happen to you – you'll be checking out my post on Free Watermark Software & Sites to Watermark Online as soon as you're done here.
But first, tell me your leprechaun name in the comments! And if you want to share Jeff's St Patrick Day graphics on Facebook (at the full size!), please go to his original post to share on Facebook. Don't download! Unless you have permission, it's copyright infringement – whether you see a copyright symbol or not.
Now you're free to share St Patrick Day graphics, and watermark images! Sure and begorrah 🙂