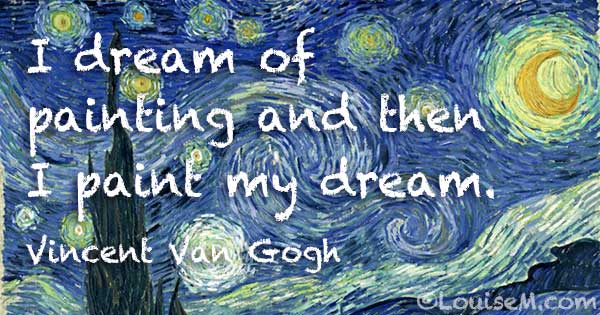 Making picture quotes?
Then you know it can get time-consuming and/or expensive to continually come up with great backgrounds.
Good news! There's a source of awesome art you can use: FREE Public Domain Art.
Old Masters art is one category that generally falls in the public domain. I don't know about you, but I can't hold a palette knife to these guys! I'm thrilled to be able to use their works, when appropriate. I like putting together picture quotes for artist birthdays, and of course, their artwork is the perfect background.
Finding FREE Public Domain Art for Your Picture Quotes
NOTE: Living artists' work is generally NOT in the public domain! In the U.S., works published before 1923 are in the public domain, plus lots more complicated rules. But instead of worrying about what is or isn't OK to use, just search on this awesome site that spells it all out for you, image by image: WikiMedia.

All you need to do is enter your search term in the upper right of the home page. Using Van Gogh yielded dozens of art pieces. Click on the one you prefer, and you're taken to a page that gives you a choice of available sizes to download, AND any information on attribution requirements (i.e. giving credit to the artist). What you want to see is this:

That means the work is free for you to use without any attribution.
For this picture quote, I added a quote from Van Gogh himself, in the font Chalkduster for its arty feel. The image had 33 shares from my Facebook Fan Page, and had the second highest reach of any of my posts.
If you wish to share on Facebook, click here. Or pin the image below to Pinterest!
If you need help putting your picture quote together, see this post on creating quote pictures without Photoshop.
Share this post if you found this info valuable on using free public domain art for the best picture quotes.