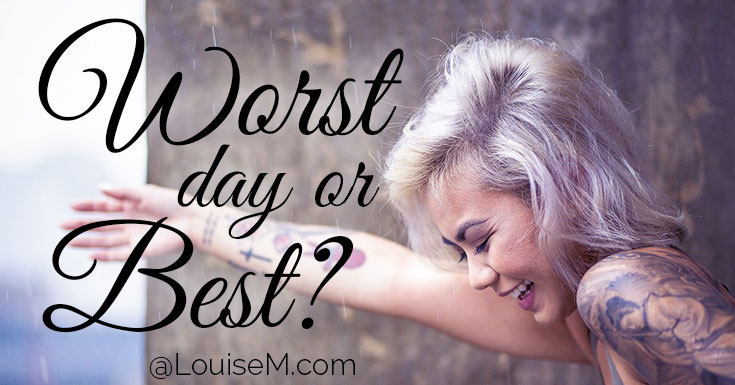 Having the worst day ever?
Take this advice from a teen – it's all in how you look at it. Turn it upside down and make it the best day!
This clever twist on a seemingly-sad story has gone viral on social media. A British fellow saw the poem tacked to the wall of a bar in London, photo'd it, and posted it on Twitter.
Did you know? Images are twice as likely to go viral on Twitter!
— Ronnie Joice (@ronniejoice) July 22, 2015
The author's mother also gave the poem some momentum by sharing it with her friends on Facebook. Yay Mom!
When I saw it, I too wanted to share! I made the poem into a pretty graphic that you can share – just mouse over to share on Facebook, Pinterest or Twitter.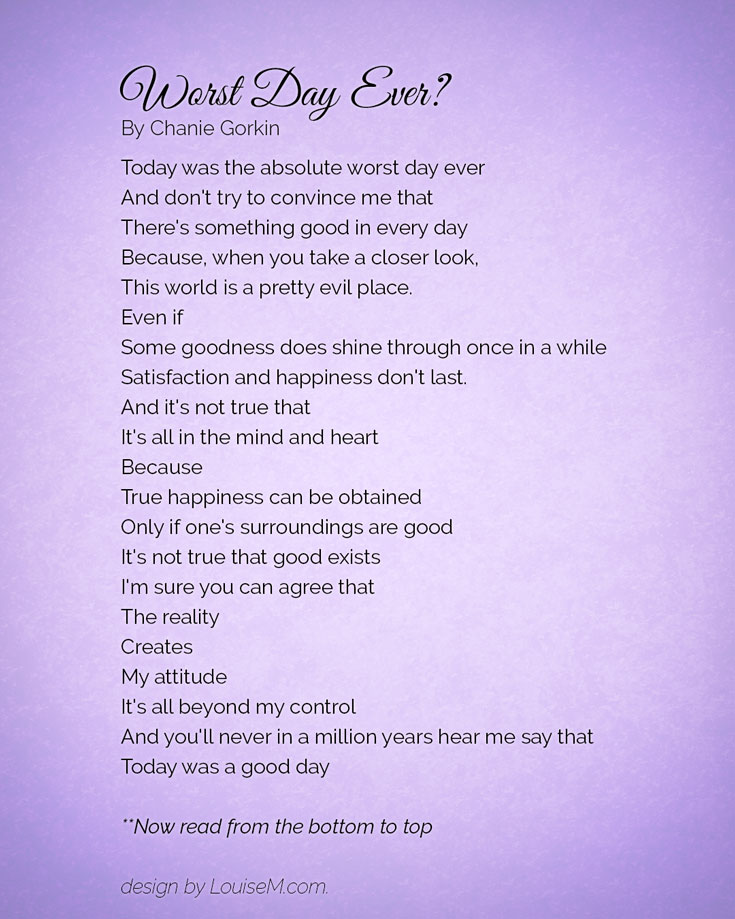 Reading the poem from the top paints the world as a sad and dark place. But get to the end, and you're asked to read it again, from bottom to top. What a change!
The author of this creative and insightful poem is Chanie Gorkin, an 11th grader from Brooklyn, New York. You can check out her profile on PoetryNation.
Rachel Eber with Eber & Wein Publishing, an independent publisher that runs PoetryNation, told TheBlaze that Gorkin submitted her poem in a contest in November 2014. She made it to the semifinal round in that contest and her piece was published in an anthology.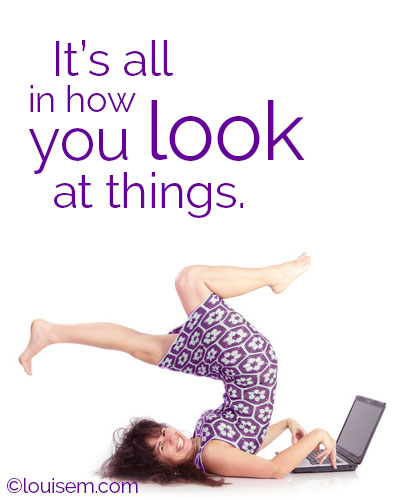 I'm a big fan of this "turn it upside down" philosophy and made the graphic at right a few years ago. Life keeps coming up with bad days, so I can always use another reminder!
Here's the text of the poem:
Worst Day Ever? by Chanie Gorkin
Today was the absolute worst day ever
And don't try to convince me that
There's something good in every day
Because, when you take a closer look,
This world is a pretty evil place.
Even if
Some goodness does shine through once in a while
Satisfaction and happiness don't last.
And it's not true that
It's all in the mind and heart
Because
True happiness can be obtained
Only if one's surroundings are good
It's not true that good exists
I'm sure you can agree that
The reality
Creates
My attitude
It's all beyond my control
And you'll never in a million years hear me say that
Today was a good day
**Now read from the bottom to top.
Share the poem graphic to cheer up someone who may be having the worst day ever. Thanks!