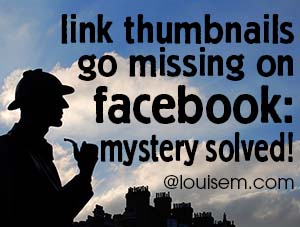 Wondering where your Facebook link thumbnail has gone?
Me too! I almost stopped posting normal links because they looked so boring.
Of course, there are numerous ways to post links on Facebook. But using the simple link preview is one of the best for driving traffic. When you're posting links to your own blog – you want link clicks!
As I posted a link on my Facebook Page the other day, I discovered an easy solution to the missing link thumbnail.
[pinit]
How to Restore Your Missing Facebook Link Thumbnail
If you try to post a link on Facebook and see something like this: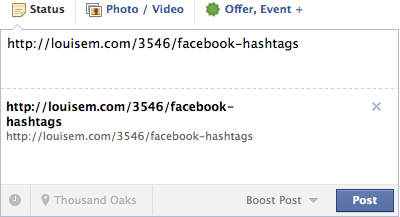 Follow these steps:
Ensure that you have an image on the page that's at least 200 x 200 pixels.
If so, head over to the Facebook Object Debugger. Enter the page URL.
You may get some techy solutions – but for now, go back to Facebook and try posting your link again.
Success!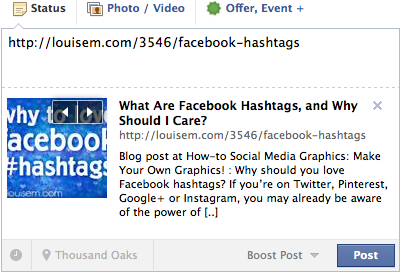 If you don't get this outcome, try the fix below. When you get around to it, make Facebook's recommended changes, or get your web developer to do it for you.
Me? I'll never get around to it – but this is a quick fix! 😉
What If I'm Getting the Wrong Facebook Link Thumbnail?
When you or your reader "likes" your post, is the wrong thumbnail displayed? If you blog with WordPress, this plugin should solve both the wrong thumbnail problem, and the missing thumbnail issue.
Install the Add Facebook Share Thumbnail + Meta Plugin. Make sure you set a featured image for each post, and Facebook will automatically use it for the Facebook link thumbnail.
Know anyone else using Facebook for business? Help them out – let them know this post has helped you solve your Facebook link thumbnail problems!