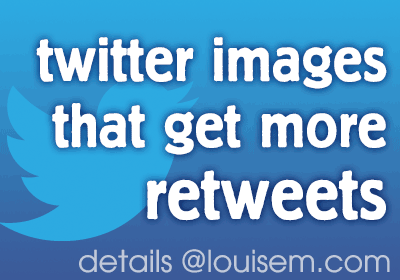 Which Twitter images get more retweets?
Your method of posting Twitter images may be getting you more retweets – or less!
There are a number of ways to post Twitter images. Dan Zarrella examined 482,862 random tweets for the 4 most popular ways, to see which of those methods got the most retweets.
When you tweet images hosted on Facebook or Instagram, you cut your chance of retweets in half! Post images directly to Twitter and get almost twice the retweets. If you post via TwitPic you'll also do well, getting 64% more retweets.
If you're asking, What is TwitPic? – so was I. Wikipedia tells us:
TwitPic is a website that allows users to post pictures to the Twitter. TwitPic is often used by citizen journalists to upload and distribute pictures in near real-time as an event is taking place. (source)
Bottom line? If you want retweets, post images directly on Twitter!
Get details from Dan Zarrella here.
After you check out the infographic, head over to the clever workaround to post Instagram images directly to Twitter, instead of as a link to Instagram.
Will this infographic change the way you post Twitter images? I know you want to get more retweets!