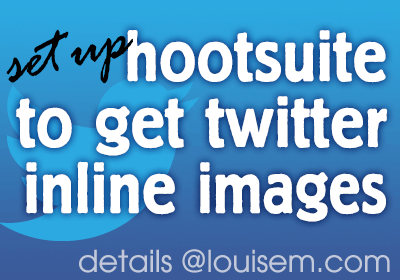 Finally – the awesome sauce of HootSuite and Twitter images come together!
If you read my post about Twitter images last week, you've seen how important it is to have your images show in the Twitter feed.
If you use HootSuite to schedule your tweets, you know that your followers have to click a ow.ly link to see the image. That really defeats the power of Twitter images.
But there's good news! HootSuite just added support for pic.twitter.com. Here's how to change your image host now.
Selecting an Image Upload Service for Twitter Images
HootSuite now offers two image upload services for Pro and Enterprise users: ow.ly and pic.twitter.com.
If you belong to an organization, you'll need advanced permissions for the social network to enable this service.
NOTE: Using pic.twitter.com as your image upload service will display as ow.ly when composing, but will update to pic.twitter.com when posted.
1. Click to select user profile icon on left-aligned launch menu.


2. Double-click social network.

3. Click to select an image upload service.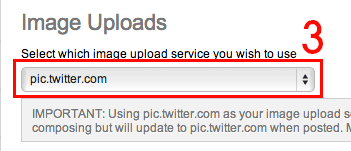 I highly recommend you head over to your HootSuite dashboard and set this up now – even if you're not using images yet – as ow.ly is the default. I don't want you to forget to do this later!
If you're not using HootSuite, you really should check it out!
• • • Try HootSuite for FREE • • •
(proud to be a HootSuite affiliate!)
I predict you'll love the power of HootSuite and Twitter images together!