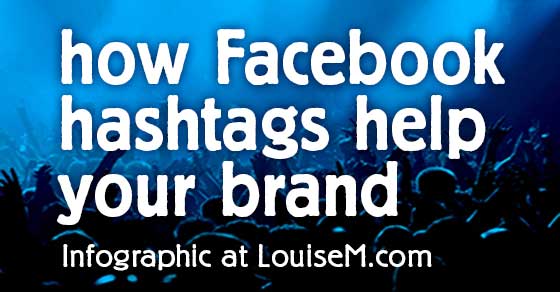 Using Facebook hashtags?
Among their many benefits is increasing your Facebook reach beyond those who have Liked your page.
This infographic shows 5 ways hashtags can help your brand:
Expand your reach – Help people interested in niche topics find each other and join the conversation.
Amplify the brand – Help an idea or product catch on by branding your Facebook page posts with your own hashtag.
Cross social platforms – Post to multiple platforms with the same post now that hashtags in Facebook are searchable.
Promote specials and events – Use a special hashtag in your posts to promote your events on other platforms.
Capture new fans and leads – Reach like-minded individuals within key audiences and get them to engage with your page or cause.
Tips to help you with Facebook hashtags:
Don't overdo hashtags. I like to add them at the end of a post, and not within the sentence as I do on Twitter.
Hashtags must be all one word (no spaces).
Capitalization doesn't matter – but it does make the hashtag more readable, i.e. #FacebookTips.
Before you use a hashtag, research to see if it will work. I haven't used a variety of hashtags on Facebook, but I can tell you that some I thought of using on Instagram meant something entirely different than I expected! So check 'em out first.
Encourage users to make their posts public to increase reach.
Infographic from Signal Mind (formerly PiJnz).
Are you using Facebook hashtags on your page posts? Will you try them to increase your page reach?
Get all the help you need with Reach in my new report, Increase your Facebook Reach in 2014!