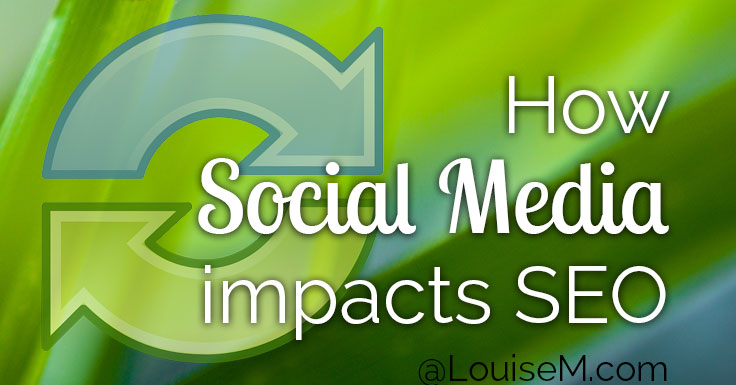 Confused about how social media impacts SEO?
It's not entirely clear, as no search service will reveal information to help people scam the system.
Check out this graphic to understand how social media supports your SEO efforts. It's a bit less direct, but should clear things up.
How Social Media Supports Your SEO Efforts
Social Media:
Helps your content get discovered.
Builds links to your content when reshared.
Helps you build a community of fans and supporters.
Increases your visibility and authority.
Grows your site traffic.
This leads to your site being seen by search engines as an authority site. Now they're much more likely to send searchers your way!
Remember, it all starts with great content. You need quality content people are likely to share and link to. The better your content, the better everything else will work.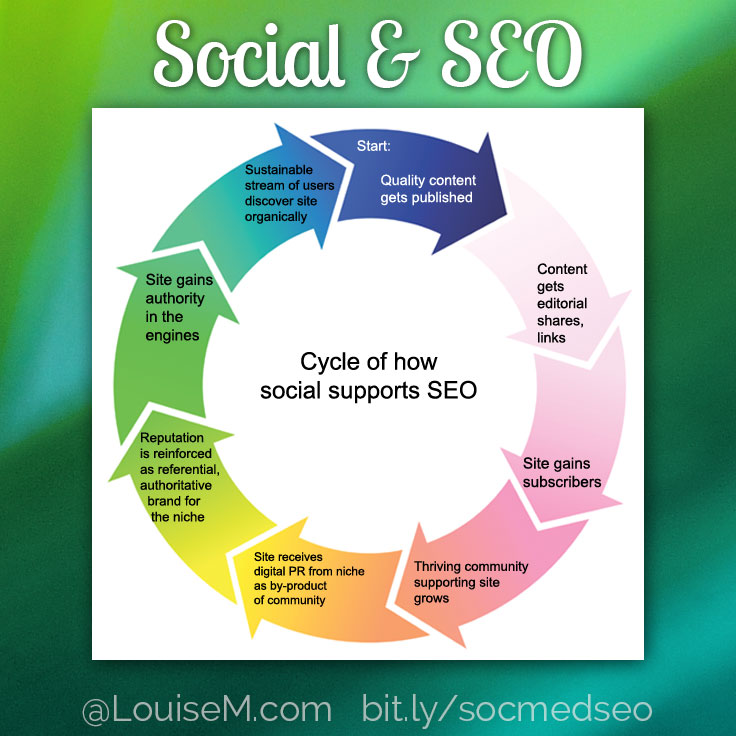 Stats on Social Media and Website SEO
I couldn't find an original source for this infographic. But I did find some recent stats on social media and website search engine optimization via Octagon Marketing Group:
94% increase in click thru rate when search and social media used together (eMarketer)
50% of consumers combine search and social media to make purchase decisions (Inc)
46% start with social media, then turn to search to help make their decision
40% start with search, then turn to social media
45% use search throughout the buying cycle
31% use social media during the purchase process to get others' opinions (GroupM)
30% say they use social media to eliminate brands from contention
28% say social media sites like YouTube and Facebook help them learn more about brands and products
At a ratio of 2-to-1, consumers cite quality and depth of information as reason they use search and social media together
30% of consumers rely on user reviews to aid in their purchase decision (eMarketer)
74% of consumers use a Facebook brand page as the desired format for following a brand for future engagement (Search Engine Land)
Consumers exposed to branded social media are 2.4 times more likely to click on an organic listing (comScore)
Consumers exposed to a brand's social media are 2.8 times more likely to search for that brand's products
Consumers who use social media are 50% more likely to use search (srcibd)
50% CTR increase in paid search when consumers were exposed to both influenced social media and paid search
Websites with a Google+ business page yield a 15% rise in search rank (Open Forum)
70 Facebook shares plus 50 "likes," give rise to 7% rise in search ranking for websites
45% of consumers have no specific brand or business in mind when they begin their search on their desktop or smart phone (GroupM)
Check out and pin the graphic to remind you how social media impacts SEO!