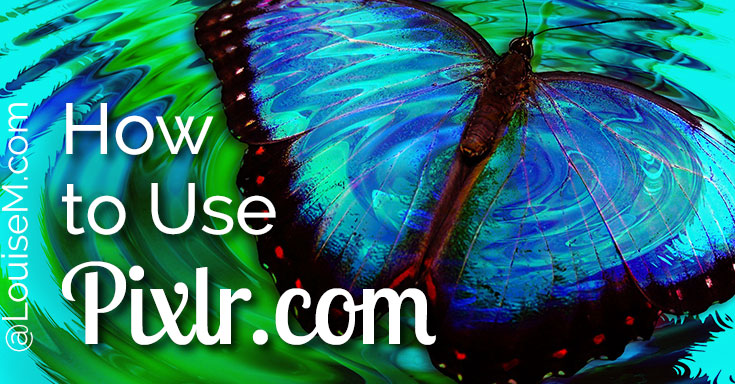 Wondering how to use Pixlr to make graphics with text overlays?
Pixlr.com is well-known as a free photo editing tool. But you can also use it to make quote graphics, and much more!
While many free graphics tools have flooded the market, Pixlr is an old standby that has a Photoshop-type interface. If you've ever struggled with trying to learn Gimp (a free Photoshop imitator), Pixlr could be the one for you.
Pixlr is available as a browser-based tool, and for mobile devices as Pixlr Express. Our Pixlr tutorial will use the desktop version.
Benefits of Pixlr:
A simpler version of Photoshop that can ease you into learning that tool of the pros.
Completely flexible – you can do just about anything you can imagine.
Work on any size images.
Crop and resize images.
Use your own fonts to keep branding consistent.
You can create layers and layer masks for complex projects.
Library of professional style filters.
A possible drawback is that Pixlr is completely open-ended, leaving you to come up with a photo or idea for your background, as well as the fonts you want to use. If you relish the thought of getting creative, and/or eventually want to learn Photoshop, Pixlr could be your free graphics tool!
Want more options? No time to read now? Download my free report on Pixlr plus 4 more design apps. Grab it here.
Step 1: Open Your Background Image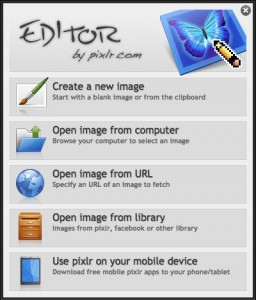 To create a graphic in Pixlr, you'll start with your own photo, or make a background. You'll also need the fonts that you want to design with – Pixlr doesn't supply any fonts. If you have a font in mind that you want to use, have it downloaded and unzipped on your computer before proceeding.
Go to apps.pixlr.com/editor. You could choose to Create a new image, where you'll specify the size and make a solid color background. We'll be choosing Open image from computer. Browse your files and open the image you want.
Step 2: Crop and Size Your Image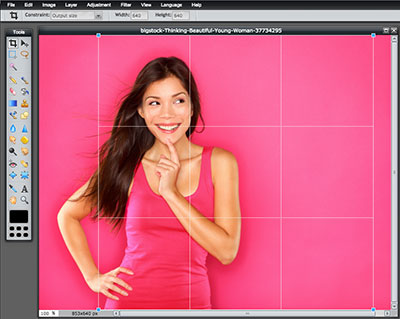 Use the Crop tool to get the shape and cropping you want. Hit your Return key.
Then go to Image > Image Size in the top menu, and set your size.
You'll find sizes for social media graphics in my Social Media Cheat Sheet. This link will open in a new window so you can pin the cheat sheet for future reference!
Pixlr gives you tons of Filter and Layer effects to edit your photo, but we won't mess with them today. We're gonna get this image done!
Step 3: Add, Style, and Color Your Text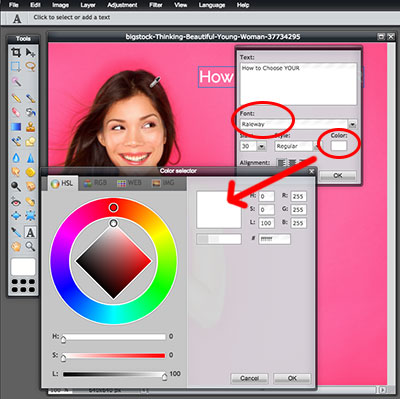 Click the Text tool (large A icon) in the Tools palette. Then click in your image.
Now type your text in the Text area of the pop-up box. Below, you'll choose Font, Size, Alignment, and Color.
All the fonts installed on your computer will show in the Font menu. Directly below that, you'll choose the size and weight.
Clicking in the Color box to the right will pop up the Color Selector.There are many options to color your text! You can use the color wheel, the sliders, or type in your brand's RGB values or hex code if you know it.
(Note: The pop-up boxes can be moved wherever you like).
Step 4: Add More Text Boxes (Layers)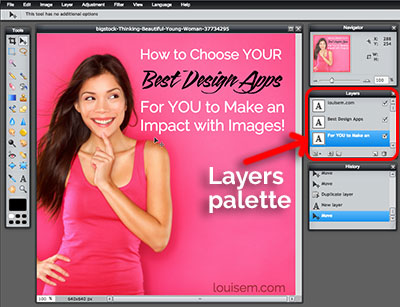 Click the Text tool again to add new boxes for each font change. You can't have multiple styles in one text box.
Click on the Arrow tool in the Tools palette if you need to move a text box. You'll be moving the last one you made, unless you pick a different one in the Layers palette at right. Each text box is on a separate Layer – just like Photoshop. This might take some getting used to.
Step 5: Save Your Graphic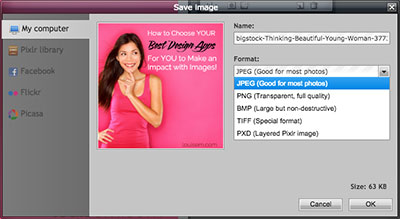 When you're done, I suggest you save a .PXD layered Pixlr file that you can edit later. Also save a .JPEG if a small file size is needed, and a .PNG for best quality, especially with type and on Facebook.
If you need some guidance, check this post on image file types.
What Do YOU Think?
Will you try Pixlr, or is a different app better suited to your needs? If you've tried Pixlr or another design tool, I'd love to hear your opinion in a comment below.
Then grab my FREE report on Best Design Apps to review at your leisure. Includes a comparison chart of 5 popular design apps for non-designers, this How to Use Pixlr tutorial, and much more!
Click Here to Get the Free Report