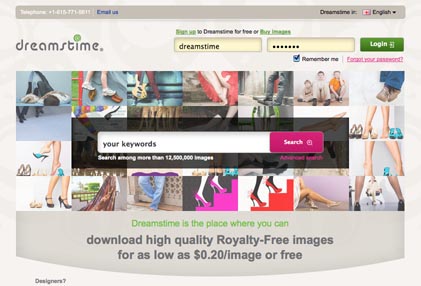 A good image can make or break your graphic design project. Your clients should budget for quality images and fonts, but sometimes you're working on a graphic design project for a non-profit, a friend, or even a side business of your own, and you need something cheap. How about free? I just found the following list of free resources for graphic designers compiled by Sig Ueland on ECommerceDeveloper.
I'm not familiar with all of these sites, but I'll share a couple of my own favorites. I've started a new yoga relief tips blog, and sourced numerous free photos at dreamstime.com. If you don't find just what you want, the search there will also show you inexpensive photos to buy. It's been my favorite photo resource for several years now.
You know those icons you see all over the web? I just heard of a great site for free web design icons: IconFinder. There are different types of licenses, so check to make sure commercial use is allowed, if necessary. And on any of these sites, be sure to follow the instructions on giving credit to your source. Show your gratitude to the graphic designers and artists who have shared their work, and give them the credit they deserve!
Free Resources for Graphic Designers: Photos, Textures, Icons
CGTextures strives to be the world's best texture site. CGTextures offers photographs of materials and textures on its website for game developers, special effects artists, graphic designers and other professions. No payment or royalties are required to use these textures.

deviantART is a platform for graphic artists to exhibit, promote, and share their work. The site offers a wide variety of free graphic resources, including stock images, textures, vector resources, designs and patterns, and tutorials.

everystockphoto is a search engine for free photos. These come from many sources and are license-specific. View a photo's license by clicking on the license icon below the photo. Membership is free and allows you to rate, tag, collect and comment on photos.

Flickr Creative Commons is a site for user-submitted images that have a Creative Commons license. Browse or search through content under each type of license.

Free Icons Web offers more than 29,000 free icons and nearly 1,000 free icon sets. The site's aim is to provide visitors with a wide variety of icons, stock icons, useful tips, icon tutorials, and more.

IconArchive is a professional icon search engine with more than 290,000 icons for web developers, end users and graphic artists. It is an inspiration source for new design ideas and a place to enjoy beautiful icons.

Image*After is a large collection of free photos and textures. Find free high-resolution images of objects, places, animals, mechanics, insects, signs, circuits, plants, and more. Images range from 1600×1200 to 2560×1920 pixels. Download and use any image or texture from the site and use it in your own work, either personal or commercial.

morgueFile contains free high-resolution digital stock photographs and reference images for either corporate or public use. The purpose of this site is to provide free image reference material for illustrators, comic book artist, designers, teachers and all creative pursuits. It's also easy to add your own photos to the morgueFile.

stock.XCHNG is a friendly community of designers who offer their works to those who need them free of charge. Browse through the categories of our huge gallery containing over 350,000 quality stock photos by more than 30,000 photographers.

TextureKing has over 350 free textures to use with your project designs. Choose from texture categories such as concrete, grunge, wood, stone/rock, liquids, and more. The site is maintained by REH3design.
Now you have an even dozen free resources for graphic designers including photos, textures and icons. Enjoy using these treasure troves of creativity!