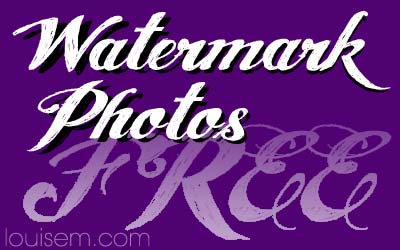 Looking to watermark photos free to protect your images from content theft?
Want to download free watermark software? Or prefer to watermark online?
I've got you covered! Here's a list of websites where you can watermark photos free! Each listing first specifies whether you'll watermark online or download software, then I've listed the website address. Each site works a bit differently, so check out a couple. Click on each heading to visit the site. If you've tried any, please give a thumbs-up or thumbs-down!
How to Watermark Photos FREE!
Watermark Photos FREE with the Best Watermark Tools

Our cdWorks Photo Helper will let you edit camera metadata, rotate pictures, and add a copyright watermark with just a few mouse clicks. FREE VERSION today.

Added by Irek Janek on Feb 16, 2013

Batch watermark software that protects your photos quickly! Free download for Mac or Windows.

Edit your images online quickly and easily and also for FREE! With PicGhost you can edit all your images online, no software or installations required.

uMark Lite is a free watermark software for adding visible watermarks to photos. You can add your name, logo or other copyright info on multiple photos at once using uMark.

Free watermarking software. Add text watermark to any image or photo. Protect your copyright, add comments, timestamps, your logo to images. Prevent unauthorized use of images. Free online service with batch images processing and Flickr, Facbook, Picasa integration.

Watermark tool is a free online watermark utility that lets you quickly and easily generate watermarks for your images.

Free Batch Image watermarking tool to help you watermark and protect your images before you get them online. Supports selection of font properties, transparency and special effects.

TSR Watermark Image Software from andromedaIT is a free program that can add watermarks to your images and documents. Highly rated: 4+ stars. For Windows only.

Watermark your photo or a set of photos. This modern watermark tool allows you to watermark any of your photos with a variety set of options.

Star Watermark is a free watermark software for Mac or Windows computers.
I'd love to see your votes above and comments below! Then please share with your friends and followers so they can learn how to watermark photos free. Thanks!
Share and Enjoy