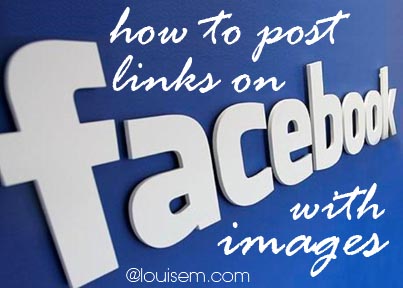 How do you post a link on Facebook so your Fans will see it?
Post a link with a BIG image!
Posting links on Facebook shouldn't be rocket science, but – Facebook seems to conspire against links offsite. They're downplayed in your Fans' news feeds, and shown with a tiny thumbnail image that may not be your preferred visual.
But you can upload any image you choose, and have your link show up in news feeds with an eye-catching visual!
How to Post a Link on Facebook with a BIG Visual!
Posting a Facebook link with image is easy as 1-2-3! Here's the step-by-step.
1. Go to the Status at the top of your Fan Page and type a bit about your blog post, including the full URL. It's recommended not to use shortened URLs on Facebook, so users know where they're going if they click the link.

The usual thumbnail preview will appear. Ignore it for now!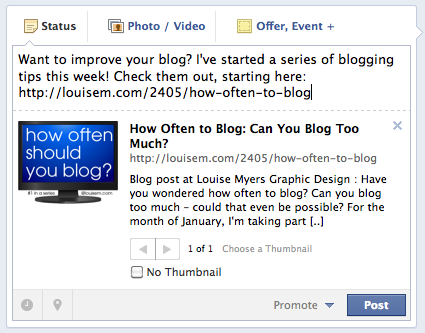 2. Click Photo/Video at the top of your update, then Add a Photo/Video, and choose the image to upload. Best Facebook photo size: 403 pixels square. Learn how to make the best blog images.
Notice that the link preview is gone – good!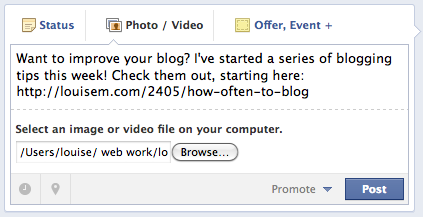 3. Click Post, and you've got a Facebook link with image! Enjoy the big, eyecatching image in the news feed.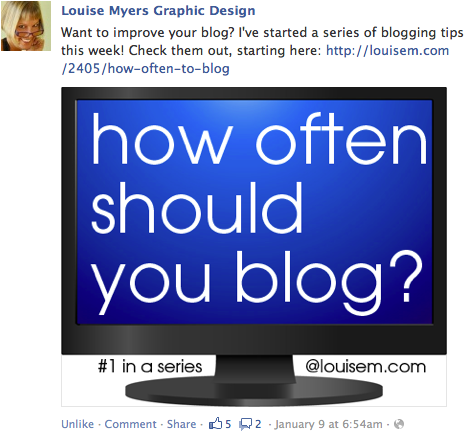 Are Your Facebook Links Getting Noticed?
Social Media Examiner has verified that the technique of posting a link with an image is getting them lots more click-throughs to their blog posts.
What about you – have you tried it?
If you enjoyed this post, please share, so others can learn how to post a link on Facebook with an eyecatching image!
Share and Enjoy