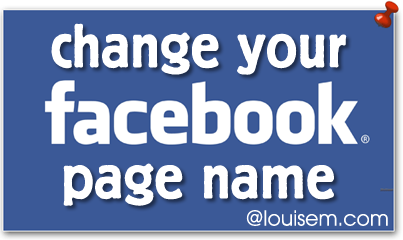 Want to change your Facebook Page name?
The good news is you can – maybe.
"Maybe" is better than a few months ago, when the answer was never, no way, not for any reason.
Now it's quite easy to change your Fan Page name if you have fewer than 200 Fans.
Greater than 200 Fans and it gets a bit tricky… but a reader with 12,000 Fans used my instructions and did it, so maybe you can too![pinit]
NOTE: When I speak of Page name, I mean the Title of your Page, as shown below your Cover Photo. This will NOT change your Facebook Page URL (web address). Check here for how to change your Facebook Page URL and important cautions about doing so.
Changing your Page name is a BIG deal – it must be done right – you can never change it again. Please read this entire page carefully!
Change Your Facebook Page Name with Fewer Than 200 Fans
Logged in as an Admin of the Page you wish to change, in the top Admin panel, choose Edit Page… Update Info.
Scroll down to the fourth section where it says Name: You should see an editable text box.
Fill in the name you're SURE you want (WARNING! Cannot be undone or changed more than this ONE time!)
Check your spelling one more time! Then scroll to the bottom and click Save Changes. That's it!
Change Your Facebook Page Name with Greater Than 200 Fans
Facebook says:
You can't currently change the name of a Page with 200 or more likes. source
But this worked for me!
Follow steps 1 and 2 above, except when you come to Name: you'll see UNeditable text, and next to it, a blue link: Request Change.
If you've already changed your Page name once, you won't see the link. Once is the limit. If you haven't, but you still don't see it, try changing your Page category to Brands & Products or Companies & Organizations, and click Save Changes. The Request Change link should magically appear!
Now click Request Change and fill out the form (sample below).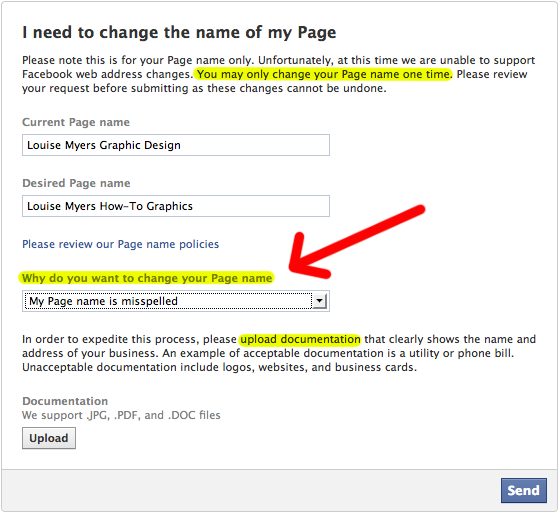 Note that you have a choice of reasons for the Page Name change request.
If you select that your business name has changed, you will almost certainly be required to provide documentation. Logos, business cards, and websites are not acceptable.
You can choose "Other" and explain in the text area.
My first choice was to change my Page name to match my website: How-To Social Media Graphics, and explain in "Other" that my business had evolved. I decided that had a high risk of being rejected.
I chose to request a very similar name to my then-current Louise Myers Graphic Design: Louise Myers How-To Graphics. I then selected "My Page name is misspelled" as the best option. (Don't even ask how long I deliberated over this!)
Before submitting your Page name change request be 100% certain of 2 things:
This is the Page name you want for the life of your Page. At this time, just ONE change is allowable.
Your Fan page is 100% compliant with Facebook Terms of Service – including the new text restriction for Cover Photos, and the very strict contest rules. Your Page could be shut down once it's scrutinized by Facebook. Click with caution!
Upload any pertinent documentation, and click Send.
Wait to Hear from Facebook on Your Page Name Change Request
You should get an auto-reply quickly. I can't say how long it will take for Facebook to review your request and respond – the auto-reply says up to 3 days. For me it only took one day plus a half hour.  And it was approved!
What about you? Will you change your Page name? Let me know how it works for you. And share your link in the comments once you change your Facebook Page name!