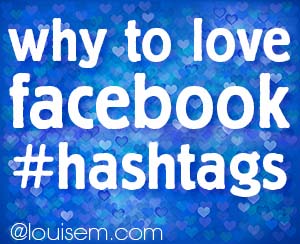 Why should you love Facebook hashtags?
If you're on Twitter, Pinterest, Google+ or Instagram, you may already be aware of the power of hashtags.
Hashtags can help your business get noticed! When you use relevant hashtags, Facebook users interested in your topic could discover your business during their hashtag searches. Here's how it works. [pinit]
A hashtag is a keyword – or group of words with no spaces – prefaced by the symbol #. On many social media platforms, and currently rolling out on Facebook, a hashtag is a clickable link to a group of posts using the same hashtag. It's a great way to discover more information about a subject you're interested in – and also a great way to become a part of a larger conversation!
Getting Started with Facebook Hashtags
Start using strategic hashtags in your Facebook Page posts. Use the same hashtags you use on Twitter – or ones you see others in your industry using.
Use hashtags even if you don't have the feature yet – and even if you're posting via mobile, where they don't work yet.
Users on desktop will see them as clickable links – and be able to find your posts when doing a hashtag search!
You can search for hashtags by typing them into the Facebook search box.
Find Facebook Pages or other connections of interest to you via hashtag search for relevant topics!
Every hashtag on Facebook has a unique URL. For example, the URL for the search below is https://www.facebook.com/hashtag/hashtagtips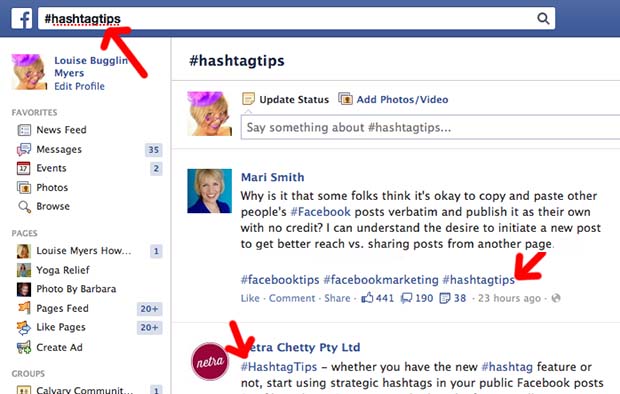 Facebook Hashtags and Privacy
Here's the scoop on hashtags and privacy via Mari Smith. Have no fear when using hashtags on personal posts – your Facebook privacy settings prevail.
Hashtags work on personal profile posts, fan page posts, group posts, event posts, and all comments.
When users click a hashtag they'll see a feed of posts that have been shared with them (or are public).
All Fan Page posts are public, and may be found in a hashtag search.
If you publish a post on your personal profile to friends only, and the post contains a hashtag, the hashtag will be clickable and open up to display all other posts on Facebook containing that hashtag.
But, ONLY friends can see your friends-only posts in hashtag searches.
Public posts – with or without hashtags – are public.
Private (friends-only) posts – with or without hashtags – are just that: private and visible to friends only.
Even when friends include hashtags in comments on your friends-only thread, your post is still private and visible just to your friends.
With hashtags shared in private groups, the hashtag link will show public posts with that tag (along with any friends' posts with that tag), but posts from the private group would only show to members.
Individual comments on threads do not surface in hashtag searches; just posts show in searches.
Have you used hashtags before? Are you looking forward to the possibilities with Facebook hashtags? Share your thoughts!