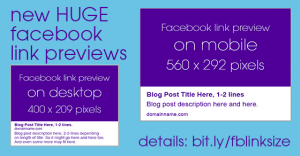 Facebook Link Thumbnail image sizes have been enlarged.
And, UPDATED JAN. 2014, Facebook is now suggesting Fan Pages post more traditional link shares, promising them better visibility in Fans' news feeds.
The new and HUGE image size will change the way you create blog post images, AND share links on Facebook. This is BIG! 
Facebook Link Thumbnail in the Desktop News Feed
On desktop, the link preview will now appear at 400 x 209 pixels.
If the uploaded image is smaller than 400×209 px, then it will render as 154×154 or 90×90 px (the largest available size). BIG difference!
And that nice, big image (with its text box) acts as a link to the blog post when clicked, making it much easier to get viewers to your blog posts.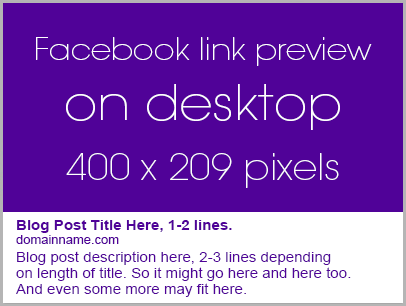 Facebook Link Thumbnail in the Mobile News Feed
On mobile, the link preview will appear at 560×292 pixels.
If the uploaded image is smaller than 560×292 px, then it will render as 154×154 or 90×90 px (the largest available size). You don't want that to happen, right?
Blog Post Image Sizes to Ensure Maximum Impact on Facebook
Facebook is recommending an enormous 1200 x 627 pixel size for images, but link previews aren't seen larger than 560 x 292 at this time (on mobile, and 400 x 209 on desktop).
The common denominator with these image sizes is an aspect ratio of 1.91 wide to 1 tall. This means you could take the height of your image and multiply it by 1.91 to determine the proper width.
I recommend creating an image at least 560 x 292 pixels for each of your new blog posts going forward. If you have older posts that you (or readers) will be sharing on Facebook, and especially if you plan to run one as a Page Post Link Ad, you'd be smart to create a new, larger image for that blog post.
The first image on this post was created at 560 x 292, and placed in my WordPress blog at their default "medium" size of 300 x 156. Normally I'd suggest only uploading images at the size you use them on your blog, to download faster. BUT my point here is that while you NEED to meet Facebook's minimum link thumbnail size, you don't have to show the image that large on your blog.
If you don't want the image to be visible on your blog at all, and you're comfortable with doing META coding, you can set the link preview image by following this tutorial. Don't follow the size info there, as it's outdated, but I believe the technique will still work with your new-size image. I haven't tried it myself, and can't help with META coding. But you could write me a tutorial if you like!
Why Care About Facebook Link Thumbnails?
Standard link posts (that is, with the link preview generated by Facebook, as described above) have been getting better click-throughs than other ways to share links that I've recommended in the past. Now with the large preview image, that can only get better – IF you take advantage of it!
If you don't make your blog images at least 560 x 292 px, your link posts will be at a big disadvantage in the news feed. And if you plan to turn a link post into an ad, you will definitely want to ensure your image meets this minimum size.
If your Facebook link posts don't pick up an image from your website, try this easy fix for missing link thumbnails.
For more details on the new link previews and Page Post Link Ads, you may want to check out Facebook's Ads and Sponsored Stories Guide. See page 17.
Pin the full-size image below so you don't forget the new Facebook Link Thumbnail image sizes! You can also embed it on your blog with the code below.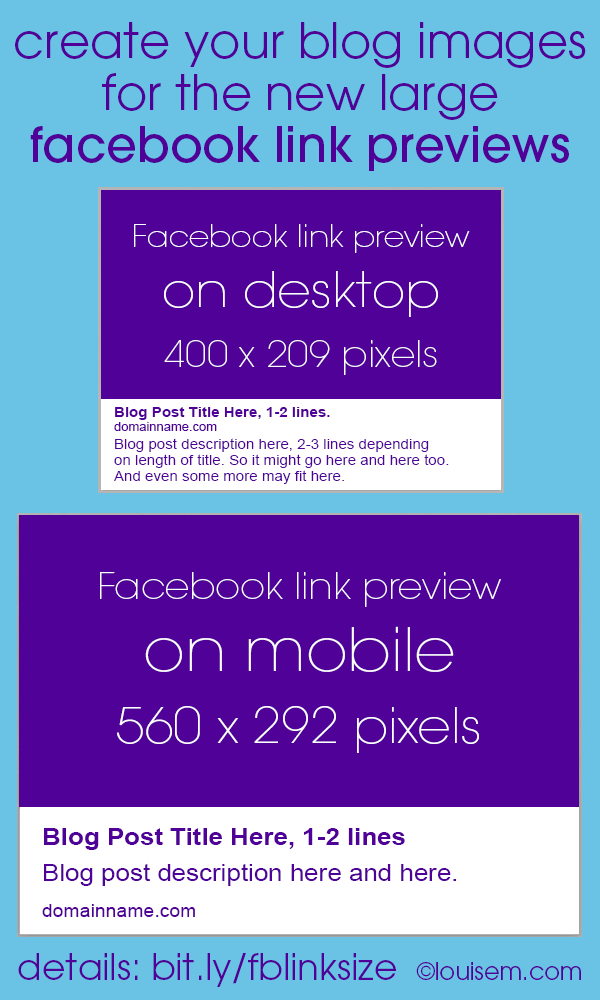 Embed This Image On Your Site (copy code below):

Share and Enjoy