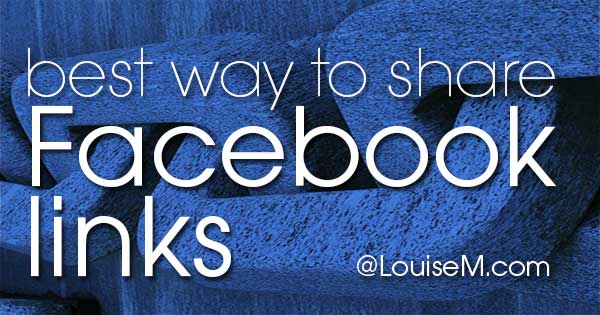 Wondering what type of Facebook Page post links get the most reach and engagement?
Facebook is still tweaking its news feed algorithm to favor their standard link post.
Last year, Page admins found that text updates were getting the highest reach, so they were "disguising" a link in a text-only post.
On January 21, 2014, Facebook announced it would be reducing the reach of text-only updates, and suggested Pages use more of the traditional Facebook Link Shares.
They updated the algorithm that determines what prevails in the news feed, and said:
The best way to share a link after this update will be to use a link-share…
NEW Sept 2014! Pages (mine included) have still been posting big photos with a link in the caption. Now Facebook says, Don't do that either! 😉 They believe the standard link share provides a better user experience:
We've found that people often prefer to click on links that are displayed in the link format (which appears when you paste a link while drafting a post), rather than links that are buried in photo captions. The link format shows some additional information associated with the link, such as the beginning of the article, which makes it easier for someone to decide if they want to click through. This format also makes it easier for someone to click through on mobile devices, which have a smaller screen. source
Below is a traditional link share. You type the URL in the status box, and Facebook pulls a preview. You can then delete your typed-out URL, as the preview box is clickable.
Critical: be sure you have a suitable blog image on each page on your site, to be pulled as a large preview!
Another important aspect of this update is that Facebook promises to quash click baiting.
"Click-baiting" is when a publisher posts a link with a headline that encourages people to click to see more, without telling them much information about what they will see. Posts like these tend to get a lot of clicks, which means that these posts get shown to more people, and get shown higher up in News Feed.

However, when we asked people in an initial survey what type of content they preferred to see in their News Feeds, 80% of the time people preferred headlines that helped them decide if they wanted to read the full article before they had to click through. source
Facebook will examine the length of time spent on a site after clicking a link (too short and they'll infer the link was low quality), as well as the amount of interaction on the Facebook post itself.
Both of these updates focus on providing more information to the Facebook user about what to expect if they click a link.
So be straightforward: post links in the normal Facebook link share format. Facebook says these links receive twice as many clicks compared to links embedded in photo captions.
Don't post all link-shares though! You'll have to experiment to find the best post types for your audience. Use a mix of photos, videos, links (with the preview left in place), events, offers, and text status updates.
What type of Facebook Page posts get the most reach for you? Let us know in a comment!