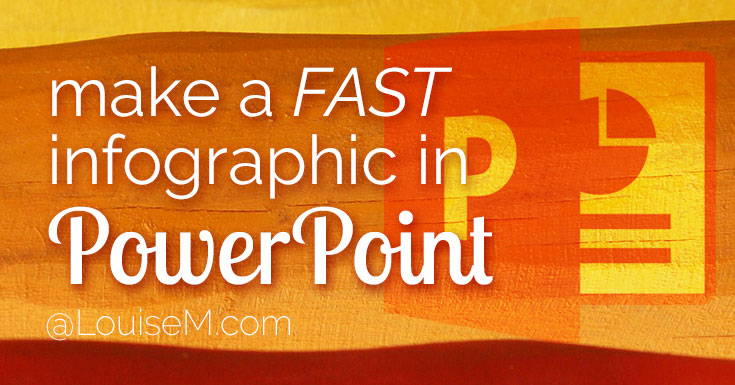 Would you like to create a PowerPoint infographic – FAST?
Infographics are a fantastic way to convey information in an easy-to-understand way. Making them can seem daunting – but if you already use PowerPoint, you've got all you need!
One of my readers submitted an attractive infographic he made in PowerPoint. Oleg Lions says he loves it for infographics because it allows him to export a PDF. Since he can embed links, he finds this more convenient than JPEG or other image formats.
Make PowerPoint Infographics From Templates
Oleg used an infographic template for his design. Templates are a great route to fast infographics!
Here's a collection of free PowerPoint infographic templates from HubSpot (opt-in required).
Or, you can find almost 2,000 PowerPoint infographic templates for a few dollars apiece at GraphicRiver. Check it out!
Make PowerPoint Infographics From Scratch: Slides & Video
You can make a perfectly pinnable sizePowerPoint infographic as a single slide. Below is a SlideShare showing how to create one from scratch – in less than 30 minutes!
Credit: How I Created Easy Infographics Using MS PowerPoint from Kimberly Gauthier
Want to make taller infographics?  Watch this 10-minute video that goes into detail about making tall infographics from a number of PowerPoint slides, saved as .PNGs. Lots of great tips here!
Are You a Non-Designer Making Your Own Graphics?
I'd love to see what you're doing, and possibly feature you on my blog if you'd like.
If you get my emails, just reply to any of them. Or, head over to my Facebook page and post your graphic there!
If you need some help getting started, be sure to download my FREE Best Design Apps Report to compare some easy-to-use design apps – including PowerPoint!
What do you think – will you create a PowerPoint infographic?